Peter "Pej" Hamidi is a well known trader on Wall Street and Founder of InvestmentCapitalist.com. One of the most respected financial research sites on the web for over 14 years running. By presenting a unique global macro perspective of financial markets, technology and the geo-political landscape affecting market movements, the site is visited on a daily basis by some of the most respected fund managers around the world. Investment Capitalist also helps readers understand how the tape can be used to recognize automated market making algorithms that may be vulnerable to coordinated attacks from hedge funds or when the algo's themselves are about to wreak havoc on the markets. If you're still leaving elephant
...
More
tracks because you use market orders to unwind or put on positions, then you've got a big target painted on your back that says "I'm lazy".

Investment Capitalist's founder, Peter (Pej) Hamidi has refined these skills over 18 years as a professional trader, starting at 17 when he became the youngest person in the history of FINRA to obtain his Series 7 license on his 1st attempt. A common mantra drilled into every trader is "mastering your trading platform like Hendrix, Gilmore or Stevie Ray mastered their guitars is a prerequisite to success". In a world where milliseconds make the difference between success and failure, where even the slightest edge is crucial, if you're still using a few hot key combinations for all of your trading, the concept of "predatory algorithms" has still not become clear to you. Lazy traders are so frustrated by predatory algorithms disguised as automated market makers that they take it out on their keyboards or workstations.

InvestmentCapitalist.com has rapidly become the focal point of thousands of Institutional and Buy-Side Traders looking for real color that moves markets. If you've wanted to learn how one develops and trades a global macro theme properly, Investment Capitalist puts a great deal of time into showing viewers insight into this approach. Preferring not to charge money like many subscription services who sell their ideas because they lack the resources to trade on them, Investment Capitalist chooses to share actionable market intelligence. This avoids the risk of herd behavior stampeding in and out of trade recommendations, which are often picked off by hedge funds who take the other side of the recommended trade knowing short-term demand from fast-money traders is finite and fickle. Investment Capitalist says what needs to be said and nothing more. Patience is a virtue, garnering your resources, listening to the tape, collecting market color; until the opportunity becomes clear at which point it's "all in or go home".

With a pulse on developing technologies in Bio-Pharma, Computer Sciences, Big Data Storage and Analysis, Business Process Automation, Cloud Based Computing, and the phenomenon of Social Media Marketing and Behavioral Sciences across Philosophy, Economics, Anthropology and Politics; Investment Capitalist is an unending treasure trove of knowledge.
Description: Hedge Fund Manager. Trading frequency: Daily
Interests: Bonds, Commodities, Developed International Markets, Dividend stock ideas & income, ETFs, Energy stocks, Forex, Gold, Options, REITs, Stocks - long, Stocks - short, Tech stocks

Investment Capitalist
Our analysts canvas the world to get a beat on the true Global Macro state of the international economy. Do the talking heads on financial news channels, roughly 18-30 hours behind on their reporting, tell you anything that provides you an edge or does it just distort your perspective of the market? Does it
...
More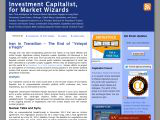 Investment Capitalist
Real-Time Intelligence for Financial Market Operators Engaged in Long/Short, Directional, Event-Driven, Arbitrage, Global Macro, Quantitative, and Sector Rotation. Recognized by Barron's as a "Priceless Resource for Proprietary Traders of Stocks and Futures Using a Combination of Quantitative, Qualitative and
...
More

101 Rules of Trading Discipline
When I was very young and the founder and CEO of an advisory firm, I was approached by a professor from the University of California, Irvine. He informed me that the school has been a subscriber to my firms research for 2 years and his MBA students would love to have the chance to meet me during class. So 1
...
More
Latest comments on Investment Capitalist's Articles