It's a shame, really, that much of what is offered here – at no charge – is not taught in the public schools. Why is it that you can graduate in the top of your high school class and know next to nothing about credit card debt, adjustable-rate mortgages, or 401(k)s?
Founded in 1999, the goal of Investment U is to give you impartial, no-nonsense advice on how to build long-lasting wealth.
Our mission is to analyze and discuss all the important financial tools at your disposal. And to make sure, too, that you use them effectively to jump-start your net worth, cut your investment costs dramatically, reduce your risk profile and, most importantly, achieve and maintain total financial independence.
...
More

It's the latter point that is truly our goal here at Investment U. Because no one has the opportunity to live his life fully if he's a slave to his job, his financial obligations, or his overhead. Or, worse, if he's worried he won't be able to maintain a comfortable retirement… or leave behind some kind of legacy.

The essential truth of modern economic life is that money gives you choices. Chief among these is the opportunity to do what you want, where you want, with whom you want. That's what financial freedom is all about.

It's too bad we don't discover this at a younger age. But then, it's never too late to start learning… or to finish our investment education.

Over time, the insights and analyses offered by Investment U – delivered daily in our e-letter – can make a dramatic difference in any investor's net worth and financial security. And you can hardly beat the price…

After all, it's free and you'll receive this Free report: Why It's "Mayday" For the Euro… And What You Should Do. Please visit: www.investmentu.com.

Disclaimer: Money Morning and Stansberry & Associates Investment Research are separate companies, and entirely distinct. Their only common thread is a shared parent company, Agora Inc. Agora Inc. was named in the suit by the SEC and was exonerated by the court, and thus dropped from the case. Stansberry & Associates was found civilly liable for a matter that dealt with one writer's report on a company. The action was not a criminal matter. The case is still on appeal, and no final decision has been made.
Description: Newsletter author.
Interests: Bonds, Dividend stock ideas & income, ETFs, Forex, Mutual funds, Options, REITs, Retirement savings, Stocks - long, Stocks - short, Tech stocks

Location:

MD; United States
InvestmentU
Everything You Want To Know About Investing, But Don't Trust Anyone Enough To Ask The Fastest, Safest Way to Grow Your Money Investment U's unbiased, "actionable" investment insights are underpinned by the four fundamental principles below. And for the record, these are the very same principles our Chief
...
More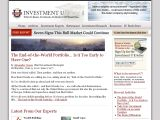 Investment U
Investment U has over 400,000 subscribers. We feature a daily investment insight email that features New York Best Times Seller Alexander Green, and Dave Fessler, recently on the Glen Beck show to name a few. Founded in 1999, the goal of Investment U is to give an impartial, no-nonsense advice on how to
...
More

The Gone Fishin' Portfolio
The Gone Fishin' Portfolio isn't just another investment book.. It gives you a complete investment strategy from perhaps the leading investment maverick of his generation. Alexander Green was a top investment mind at the world's #1 investment bank. He is a regular guest on nationally televised investing
...
More
Latest comments on Investment U's Articles
LATEST ARTICLES & INSTAPOSTS
more »