James Bjorkman
x
Author Following Options:
See their articles on your Seeking Alpha homepage and in your feed.
Real-time alerts on this author
Get their new articles emailed to you as they are published.
Daily digest on all my authors
Get all your favorite authors' new articles emailed to you in one daily digest.
Send Message
I had my first passbook account in the 1960s, and lost money in the 1987 crash. Subsequently, I have run investor chat rooms and an investing blog. I also am a published author and write a film animation blog at animatedfilmreviews.filminspector.com.
I bought my first Manhattan property in 1993 and also own property in Colorado. I enjoy investing in real estate and writing about it. I invest in income stocks such as REITs and consider that my area of expertise.
Oh, and I was mentioned in "Scam Dogs And Mo-Mo Mamas: Inside the Wild and Woolly World of Internet Stock Trading" (2000), by Wall Street Journal reporter John R. Emshwiller, a good guy. It's about the bad old dot.com days.
Description: Full-time Investor. Trading frequency: Daily
Interests: Developed International Markets, Dividend stock ideas & income, ETFs, Futures, REITs, Retirement savings, Stocks - long

FilmInspector.com
I am a writer as well as an investor. FilmInspector.com contains my blogs on film, random thoughts, and various other topics. I am gratified that it has become a popular destination for thousands of viewers every day.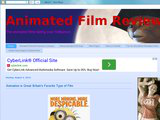 Animated Film Reviews
Reviews, news, and whatever else comes up about Disney, DreamWorks Animation, Sony and other studios, large and small, domestic and foreign, that make up the animated film industry.

Avram, Thief of Catland
Avram is a thief in an ancient land. His ultimate theft succeeds .... all too well. It turns out to be a magic potion that makes him immortal... and turns him into a cat. The owner of the potion, who rules the city with savagery and heartlessness, now is determined to capture Avram for reasons of her own.
...
More
Latest comments on James Bjorkman's Articles
Latest Articles on ETF Analysis
Latest Articles on Portfolio Strategy & Asset Allocation