I am an economist who created theorems being bantered about for the Austerity v. Coase oppression investing, and new nest egg investing lifestyle rules.
The theorems are measuring affects on markets and human unit plights over these next decades. I have been an analyst for over 21 years. Finding good investment ideas in making critical strategies for buy and sell orders daily.
THE MISSION - Coming to Seeking Alpha, with article posts that can be also read in other partner publications. I started writing articles dealing with the financial collapse and critical financial reform issues. These issues affecting investors and the human plight of staying clear of losing their nest eggs in an ever changing
...
More
austerity environment.

These articles all have a common theme. The theme of being intentioned as Far-fetched. Far-fetched are teaching the reader about what forces the conditions with facts that may be affecting a certain stock or economic concern that turn out to be true.

I am writing to challenge young and old with a vast ability to raise theorems of substance and/or to provoke innovative thoughts. I guarantee to provide insightful articles and my hope is to stimulate the readers' opinions about the issue at hand.

I look forward to many interactive discussions from the community of readers and bloggers.

Thank you

Far-fetched-Never!

***LEGAL TERMS/DISCLAIMER***

James Gornick is not registered investment advisors, broker/dealers, or research analysts/organizations.

Readers are advised that the commentary and reports on the seekingalpha.com published James Gornick articles and or James Gornick instablogs or comments by James Gornick on their website are issued solely for information purposes and should not to be construed as an offer to sell or the solicitation of an offer to buy any security. The opinions and analyses included herein are based from sources believed to be reliable and written in good faith, but no representation or warranty, expressed or implied is made as to their accuracy, completeness or correctness.

YOU SHOULD VERIFY ALL CLAIMS AND DO YOUR OWN RESEARCH BEFORE INVESTING IN ANY SECURITIES MENTIONED IN ARTICLES, INSTABLOG, OR COMMENTS BY JAMES GORNICK WITHIN THIS SITE AND SEEKING ALPHA PARTNERS. INVESTING IN SECURITIES IS SPECULATIVE AND CARRIES A HIGH DEGREE OF RISK. YOU MAY LOSE PART OR ALL OF YOUR PRINCIPAL INVESTMENT.

Readers are urged to consult with their own independent financial advisors with respect to any investment. All information contained in this report should be independently verified with the companies mentioned. Neither James Gornick nor Seeking Alpha, nor its officers, directors, partners, contributors or employees/consultants, contributors or employees/consultants accept any liability whatsoever for any direct or consequential loss arising from any use of information on this website or any use of information in its article publications.

Seeking Alpha, and its officers, directors, partners, contributors or employees/consultants and James Gornick may on occasion hold positions in the securities mentioned in the Seeking Alpha published articles and or instablog and comments made by James Gornick on seekingalpha.com website and in its partner websites. These positions may change at any time. Please note that Seeking Alpha or James Gornick do not receive compensation of any kind for mentioning a company on the seekingalpha.com website and through its instablog and comment recommendations portion of the seekingalpha.com website.



Our articles, instablogs and comments are limited to the dissemination of general information pertaining to investments. Accordingly, the published articles, instablogs, and comment recommendations should not be construed by any existing or prospective subscriber of Seeking Alpha or Seeking Alpha partners as the rendering of personalized investment advice for compensation. We are neither attorneys nor accountants and no portion of the web site content should be interpreted as legal, accounting or tax advice from published articles, instablogs, and or comment recommendations made by James Gornick.

Past performance may not be indicative of future results. Therefore, no prospective or existing subscriber to Seeking Alpha or their partner websites should assume that future performance of any specific investment or investment strategy, including the investments or investment strategies made reference to directly or indirectly in our current or previous newsletters, will be profitable or equal any historical performance levels.

Please remember that different types of investments involve varying degrees of risk, and there can be no assurance that any specific investment will be suitable for a prospective or existing Seeking Alpha subscriber's investment portfolio. Historical performance results for investment indices or categories generally do not reflect the deduction of transaction or custodial charges, the deduction of an investment management fee, nor the impact of taxes, the occurrence of which would have the effect of decreasing historical performance results.
Description: VC Fund Analyst. Trading frequency: Daily
Interests: Bonds, Commodities, Developed International Markets, Dividend stock ideas & income, ETFs, Energy stocks, Forex, Gold, Mutual funds, Options, REITs, Retirement savings, Stocks - long, Stocks - short, Tech stocks

Ph. Number:

561-283-7482
Email:
Location:

FL; USA
Join "We Are The Cure" Making a Difference for Cancer Patients Everyday!
To: All Adults Between The Ages of 18 - 72 ***Each of Us Have The Cure For One Another For Blood Type Cancers*** http://marrow.org/Join/Join_the_Registry.aspx https://fundrazr.com/campaigns/5MSZ1 Helping one family at a time. It means there is a chance that you may be willing to help in a volunteer
...
More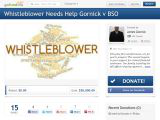 Helping a Family Win The Battle of Stepping Up!
***This urgent plea first and foremost, are for you're prayers to prevail and survive!*** The second request made to my readers and supporters, are for your support for critical financial assistance. Our family is feeling the full affects of going against the Goliath of my former employer; Broward Sheriff's
...
More

Latest comments on James Gornick's Articles