Jeff Diercks, is an investapreneur and recovering CPA. He actively trades his own money and manages the assets of a select group of clients at InTrust Advisors, a Tampa, Florida based wealth management firm focused on trend following and price momentum strategies utilizing ETF securities.
Mr. Diercks is also the managing member of Stock-Signal.com, which provides its subscribers with trend following buy and sell signals on a select group of broad market indexes.
Mr. Diercks has worked with discretionary and non-discretionary investment accounts for over a fifteen years and has overseen all aspects of InTrust's and Stock-Signal's investment processes. Additionally, he has over twenty years of experience
...
More
working with wealthy individuals and families in both business and financial consulting roles.
Description: Registered Investment Advisor (RIA). Trading frequency: Daily
Interests: ETFs, Stocks - long, Stocks - short

Ph. Number:

813-253-2388
Location:

Florida; United States
InTrust Advisors
InTrust Advisors ("InTrust") provides financial planning and comprehensive wealth management services to affluent and high net worth individuals with a niche focus on retirement and specialized planning for Christians. We act as your "Personal Chief Financial Officer (CFO)" by helping you develop a financial
...
More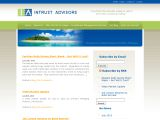 InTrust Advisors
Get the latest planning ideas, market commentary, personal financial stories and more at our blog. We post 2-3 times per week. Sign up to receive our posts direct to your inbox by clicking on the above link.

www.Stock-Signal.com
Check out www.Stock-Signal.com for trend following signals on the Nasdaq, S&P 500, EAFE and High Yield Indexes. You have nothing to lose, we offer a free trial.
We just added signals for gold, commodities and the U.S. dollar!
Latest comments on Jeff Diercks's Articles