I'm a swing trader of momentum stocks with a holding period of anywhere from a few hours to a few months. I run a number of screens to locate the strongest/weakest stocks out there, using technical analysis to determine my entries and exits. Trying to calculate the intrinsic value of stocks in my opinion is out of date and there is wisdom in crowds.I've developed a market timing system that determines when it's best to be long, short or on the sidelines, using a number of proprietary indicators based on many time frames. I believe that to have longevity in this field one must find ways to calm the mind and trade from a detached point of view. Emotionless trading will allow you to respond to what's going on right now in
...
More
the markets, rather than reacting to daily fluctuations.View my personal blog http://zentrader.ca/
Description: Independent trader. Trading frequency: Daily
Interests: Commodities, ETFs, Gold, Options, Stocks - long, Stocks - short, Tech stocks
tradewithZEN
I will be sharing the exact watchlist of stocks that I trade with my own account. I believe this stock suggestion service will provide you with a constant flow of trade ideas, along with micro trade lessons on how to best utilize this list. TradewithZen will be delivered only through twitter, as it's the most
...
More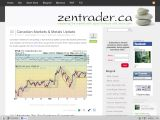 zentrader.ca
At zentrader we strive to use independent analysis to profit from volatility in the markets by focusing on the strongest sectors and stocks. Remaining calm and mindful to properly analyze what is really happening beneath the surface to truly trade in the now moment, while allowing the noise of Wall
...
More
N/A

Latest comments on Jeff Pierce's Articles