Jeffrey Rosenberg, is BlackRock's Chief Investment Strategist for Fixed Income. His responsibilities include working closely with the Chief Investment Officer of Fundamental Fixed Income, fundamental portfolios and team to develop BlackRock's strategic and tactical views on sector allocation within fixed income, currencies and commodities.
Prior to joining BlackRock, Mr. Rosenberg spent nearly 10 years at Bank of America Merrill Lynch as the Chief Credit Strategist. His most recent role included coordination of strategy across all Fixed Income, Securitized Assets, Credit, FX and Commodities and formulating tactical and strategic risk-taking recommendations for external clients and internal trading desks. Jeff
...
More
brought innovation to his credit strategy work producing the first commercialized quantitative corporate credit analytics system from a dealer firm. At BAML, Mr. Rosenberg and his team were consistently ranked in the top Institutional Investor High Grade Strategy teams and General and High Yield Strategy teams. The highly regarded Situation Room report, for which Mr. Rosenberg was editor and contributor, continues to be ranked among the top research reports in our industry.

Mr. Rosenberg earned an MS degree in Computational Finance from Carnegie Mellon, a BA degree in mathematics from the University of Minnesota, and a BA degree in finance from the University of Wisconsin. He has been a Chartered Financial Analyst since 1997.
Description: Mutual Fund Manager.
Interests: ETFs, Mutual funds

BlackRock
Unlock Opportunity, Uncover Risk In a world that is shifting and changing faster than ever before, investors who want answers that unlock opportunity and uncover risk entrust their assets to BlackRock. As an independent, global investment manager, BlackRock has no greater responsibility than to its clients.
...
More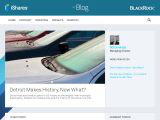 The Blog
Blackrock believes in openness, transparency, and honesty. It's how we fulfill our mission: empowering investors and investment professionals to achieve their goals. The Blog furthers that commitment, by providing visitors to the Blog with market insights and analysis from some of the preeminent thought
...
More
Currently, you have no book details. Click edit to add book details.
Latest comments on Jeffrey Rosenberg's Articles