Summary: Portfolio Manager at Copeland Capital, formerly a Senior Research Analyst at international think tank, Wall Street Research Analyst, and Private Investor. Experience consulting to investment funds, financial services firms, global organizations, and high net worth individuals/families.
Detail: Mr. Walkenhorst is a Portfolio Manager at Copeland Capital, as well as a member of the investment policy committee. He is also a partner at the firm. His primary coverage responsibilities are in the Consumer Staples, Real Estate, and Technology/Telecom sectors across all domestic portfolios. Prior to joining Copeland in March 2011, Mr. Walkenhorst was a Senior Research Analyst at The Research Board, an
...
More
international think tank that performs business and strategy research for Chief Information Officers of the world's largest organizations. Previously, Jeff was a Vice President, Equity Research Analyst with Banc of America Securities LLC (BAS), the former investment banking subsidiary of Bank of America. At BAS, he covered the Technology sector, including several years on an Institutional Investor All-America Research Team. Prior to BAS, Jeff was engaged in strategic planning, M&A, and analysis roles in the telecom and technology sectors. Jeff began his career in the Real Estate Investment Banking Group at Prudential Securities Incorporated, where he completed 31 equity, debt, and M&A transactions totaling more than $4 billion. In the years before joining Copeland, he created and authored Common Stock Sense, a popular owner-oriented investment blog dedicated to fundamental analysis and active portfolio management. Jeff holds a BA degree in Economics from Stanford University. He also holds the Chartered Financial Analyst designation and is a member of the New York Society of Security Analysts.

http://copelandcapital.com/

http://twitter.com/jeffwalkenhorst

http://www.commonstocksense.com/
Description: Mutual Fund Manager. Trading frequency: Infrequent
Interests: Dividend stock ideas & income, REITs, Stocks - long, Stocks - short, Tech stocks
Ph. Number:

484-351-3700
Location:

PA; USA
Copeland Capital Management LLC
Copeland Capital Management, LLC is an industry leader in Dividend Growth investing. We manage Dividend Growth strategies across all capitalization ranges in traditional, tactical, international and alternative products. We manage portfolios for high net worth individuals and many types of institutions,
...
More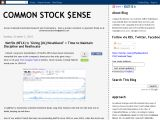 COMMON STOCK $ENSE
Common Stock $ense was created by Jeffrey Walkenhorst to periodically share investment ideas and views, and contribute to the community of investors dedicated to fundamental analysis and active portfolio management.
Currently, you have no book details. Click edit to add book details.
Latest comments on Jeffrey Walkenhorst, CFA's Articles