Jim Farrish is the Founder of Money Strategies Inc, a registered investment advisory firm. He has professionally managed money for nearly 30 years. His extensive research on the markets is published daily on his proprietary site Jimsnotes.com. His primary goal is to educate people about investing.
Jim has taught seminars locally and nationally for over 25 years, teaching thousands of individuals, business owners, and advisors how to focus on achieving financial independence. Jim speaks at The World Money Shows in Las Vegas, San Francisco, and Orlando annually. He also speaks at Advisor Symposiums throughout the country.
From these years of managing money and research, Jim has developed web-based
...
More
investment services and publications for use by self-directed investors, investment professionals, and money management clients who want to follow his research. His website JimsNotes.com is are published daily with market scan, watch, and play lists, as well as, daily articles written by Jim. His extensive research is drilled down into a comprehendible format for use by subscribers and visitors to these sites.
Description: Registered Investment Advisor (RIA). Trading frequency: Daily
Interests: Bonds, Dividend stock ideas & income, ETFs, REITs, Stocks - long, Stocks - short, Tech stocks

JimsNotes.com
Jimsnotes.com was created by Jim Farrish with the goal of educating investors about trading with discipline. Jim knows the risk of losing money will increase without disciplined trading strategies, and current market analysis. With a subscription to Jim's website you will receive all of the following to help
...
More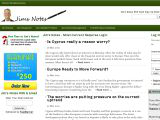 Jim's Notes
Jim's Notes is a culmination of Jim Farrish's research, charting, model portfolios, clubs and desktop workspaces.

Money Rules: Rule Your Money vs. Your Money Ruling You
MONEY RULES 10 Steps to Managing Your Money Money Rules! This is not what you think. I am not talking about rules for money. I am talking about money rules your life, so manage it to make it the best life possible. It's like when one of my children says, "Mom Rules!" This is slang for "Mom is Cool." Money
...
More
Latest comments on Jim Farrish's Articles