Jim Trippon is an Amazon.com bestselling business and finance author, a practicing CPA, and a fee based investment advisor. His portfolio of companies includes J.M. Trippon & Company CPA, Trippon Wealth Management & Trippon Financial Publishing. Jim has dedicated his business career to helping his clients make smarter financial and investment decisions.
Trippon's investment team provides fee-only asset management services. The Trippon research team publishes business books and financial research in the U.S. and in Mainland China. Trippon's commentary and opinions have also been featured in top media both in the US and abroad, including
• Bloomberg
• Investor's Business Daily
...
More

• Oil & Gas Financial Journal

• Journal of Accountancy

• The International Herald Tribune

• Stock Futures and Options Magazine

• CNBC

• CNN

• Fox Business

• Fox News

Jim resides in Houston, Texas with his wife Kim and our two children, enjoying church activities, private time with his family, kids sports activities, his son's Scouting activities and (God help him) teaching his daughter to drive.
Description: Registered Investment Advisor (RIA). Trading frequency: Weekly
Interests: Dividend stock ideas & income, ETFs, Stocks - long, Stocks - short

Trippon Financial Research, Inc.
Trippon Financial Research, Inc., is an independent financial publishing and investment research company dedicated educating and empowering investors to make smarter financial, investment, and stock selection decisions. Founded by Jim Trippon CPA, an internationally recognized analyst on investment and
...
More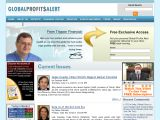 Global Profit$ Alert
Global Profit$ Alert is our weekly financial market and economic commentary, Our email alerts, are delivered directly to your inbox or smart phone so you're never in the dark about what we think you should be aware of in the current market environment,

Latest comments on Jim Trippon's Articles