I am the portfolio manager at Saber Capital Management, LLC, a Registered Investment Advisor that manages equity portfolios for clients using the principles of value investing and capital preservation in Graham and Buffett tradition.
I am also the author of www.basehitinvesting.com (BHI), a blog about value investing concepts, methods, and ideas. At BHI, my goal is to clarify thoughts by writing down ideas, networking and learning from others, and most importantly, to teach others about the virtues of developing repeatable investment strategies based on value investing concepts.
At Saber Capital and Base Hit Investing, we believe wholeheartedly in the concept of value investing. We feel that investing
...
More
success (superior performance AND capital protection) can be found by focusing on a simple core set of principles, and developing an investment process that is simple, repeatable, and founded on those principles.

Value investing works over time. It has been studied for decades and proven to be successful. The key is to understand the basic principles and maintain the proper mindset and emotional discipline.

I can be reached at john@basehitinvesting.com.
Description: Hedge Fund Manager. Trading frequency: Infrequent
Interests: Dividend stock ideas & income, Stocks - long
Saber Capital Management
At Saber Capital Management, we manage client portfolios using separately managed accounts. Assets and accounts are held in the name of the client providing maximum transparency and safety. At Saber, we have two simple goals: 1. Protect Capital (Don't Lose Money). 2. Achieve Above Average Long Term
...
More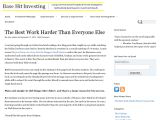 Base Hit Investing
At Base Hit Investing, I have three main goals:- Clarify investment ideas- Network/Learn from others- Teach basic concepts and ideas on value investingWith this in mind, I write content that focuses on specific ideas designed to help readers (as well as myself) improve investment results. My topics include
...
More
Currently, you have no book details. Click edit to add book details.
Latest comments on John Huber's Articles