John Kosar, CMT, is Director of Research of Asbury Research LLC (http://www.asburyresearch.com/). Since 2005 Asbury Research has been providing in-depth, comprehensive financial market research to professional investors that understand the value and importance of incorporating technical, behavioral and quantitative market analysis into their investment strategy.
John is a 30 year veteran of the financial markets who spent the first half of his career on the trading floors of the Chicago futures exchanges, where he had the opportunity to learn how the these markets work from the inside out. This experience, early in his career, became the foundation for the unique analysis, insight and perspective that defines
...
More
Asbury Research.

Kosar is is frequently quoted in the financial media and appears regularly on financial television including CNBC, Bloomberg and Fox Business. He was awarded the Chartered Market Technician (CMT) designation in 1999, and is a former Vice President of the Market Technicians Association (MTA) and served in its Board of Directors between 2002 and 2006.

During his career, John has worked as an analyst and trader for NatWest Markets, Greenwich Capital Markets and Deutsche Bank. Prior to founding Asbury Research, John spent three years as Senior Research Analyst for Bianco Research in Chicago.
Description: Sell Side Research Analyst/Trader. Trading frequency: Weekly
Interests: Bonds, ETFs, Forex, Mutual funds, Stocks - long, Stocks - short, Tech stocks

Ph. Number:

224-569-4112
Email:
Location:

Illinois; USA
Asbury Research LLC
Asbury Research produces technical, quantitative and behavioral analysis for the major areas of the US financial markets. We analyze investor sentiment, inter- and intra-market spreads, volatility, relative performance, seasonal trends, chart patterns and and intermarket relationships to formulate a logical,
...
More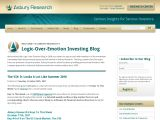 Logic-Over-Emotion Investing
Excerpts, charts and investment ideas taken directly from Asbury Research's premium investment research service (www.asburyresearch.com). The blog is meant to be a means for interested professional investors to learn more about us and our approach to the markets before committing to becoming a subscriber
...
More
Currently, you have no book details. Click edit to add book details.
Latest comments on John Kosar's Articles