John P. Reese is considered an expert in the systematic investing strategies of legendary investors, including Peter Lynch, Ben Graham, Warren Buffett and others. He has been active in the development of fundamentally-based quantitative models since the mid-90s. His research on Seeking Alpha will include stock ideas, strategy and value investing pieces, behavioral finance concepts, systematic and modeling methods as well as other long term investing concepts.
John is founder and CEO of Validea.com and also co-founder of Validea Capital Management, a asset management firm serving individuals and institutions. Validea Capital also runs an actively managed ETF that utilizes the fundamental stock selection models
...
More
of investing legends.

John also sub-advises the National Bank Consensus American and International Equity Funds offered in the Canadian market. He holds two U.S. patents in the area of automated stock analysis and is considered an expert in the field of quantitative stock selection using the strategies of investing legends.

John is a columnist for TheStreet.com, Forbes.com and Canada's Globe & Mail and is co-author of "The Guru Investor: How to Beat the Market Using History's Best Investment Strategies". He holds a master's of business administration from Harvard Business School and a degree in computer science from MIT.

A more complete biography can be found here: http://en.wikipedia.org/wiki/John_P._Reese
Description: Registered Investment Advisor (RIA). Trading frequency: Monthly
Interests: Dividend stock ideas & income, ETFs, Stocks - long

Ph. Number:

(877) 439-0506
Email:
Location:

CT; USA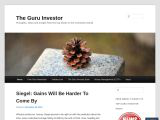 The Guru Investor Blog
The Guru Investor brings investors ideas and insights from top money managers, columnists and writers, academics, and other leading minds in the investment world.

Latest comments on John P. Reese's Articles