Wondering how well we will be doing in the future and working towards a healthier and more responsible value based economy. As an investor, I tend to look for areas of value that exceed the monetary potential, but certainly include it. In other words stocks that provide valuable goods and services that make our lives better in the short and long term. That includes responsibility in the world community.
I have never been prosecuted on any securities-related issue, been barred from the securities industry, or convicted of a felony.
Description: Occasional Investor. Trading frequency: Monthly
Interests: Dividend stock ideas & income, ETFs, Energy stocks, Stocks - long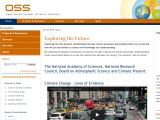 OSS Foundation
While much of the site focuses on physical sciences and climate change it is really a basket for ideas involving systems science, education, information schema and software security. Effectively it's a bucket for analysis in areas of interest.

Exposing The Climate Hoax: It's All About The Economy
Climate change happens all the time. Is current change natural or influenced by humans? The answer may not be what you think. Reisman exposes that the hoax is itself a hoax. No matter what you think now, this book provides insights into how the truth has been obscured by the fog of politics and clever
...
More
Latest comments on John Reisman's Articles