Sign up to get FREE research from Fishman Research to your inbox.
http://fishmanresearch.com/explainer/
I am a market analyst with a passion for Technology, Semiconductors and Solar. My work experience includes head analyst for a boutique firm and currently working as a consultant to several, multibillion, firms.
Through my work experience I've covered many sectors and gained extensive knowledge that allows me to connect the dots in many occasions.
My main goal for writing in SA is to expose people to different points of view about specific companies I cover, making it easy for investors to discover new investment ideas.
I am a big believer in the top down approach when
...
More
analyzing companies and trends. I like to identify themes, trends and potential Investment opportunities in these industries. This helps me understand where an individual company, and the industry as a whole, is going to be in the future. There are no "Magical" numbers or formulas for this process, just a lot of hard work. After I've found a company, analyzed it and concluded its value, then it is just like a poker game with endless cards. All you have to do is sit and wait for the next card to reveal itself and adjust your thesis. I believe that once you find the true value of a company, one must ignore the day to day market chaos. If you've done your research properly you should not worry if the Dow went up or down a particular day, a week or even a month.

I can include Peter Lynch, Ben Graham and Phillip Fisher as my biggest influences, and I encourage anyone who wishes to learn more about the market to read any of their books.

I currently reside in NYC.

Feel free to contact me in a private message here on SA.
Description: Full-time Investor. Trading frequency: Monthly
Interests: Energy stocks, Stocks - long, Tech stocks

Location:

NY; United States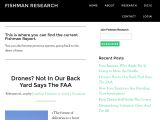 The Fishman Report
A daily short digest on the most important events in the investment and tech industries.Stop spending countless hours sifting through thousands of RSS articles and let us do that for you. Registration is completely FREE.
Currently, you have no book details. Click edit to add book details.
Latest comments on Jonathan Fishman's Articles