In 1981 Allen founded Allen and Caron, which now has offices in Irvine, California, and New York City, with affiliates in London and Milan. He spent the 1970s in various areas of media and communications. Initially he was an editor and later a marketing manager for scholarly and educational book publishers; he then moved on to serve in the cutting-edge public affairs department at Atlantic Richfield Company in the mid-1970s. When he left Atlantic Richfield, he became vice president and general manager of the southern California region of Bozell & Jacobs Public Relations.
Allen has served on the boards of several small companies, including Westergaard.com, the publishing enterprise of the late John
...
More
Westergaard. He is the co-author of a college text on system life cycles and books on business communications and continuing education. He has written a book on sandcastles, and has written on a variety of topics for numerous leading magazines and newspapers, and has been active in several charities. He is currently working on a family memoir and a novel.



Allen has also been a contributing author for the "Inside the Minds" series of C-Level Business Intelligence™ books published by Aspatore Books, a Thomson Reuters business. His contributions include a chapter in Public Relations Leadership Strategies titled Investor Relations: Creating a Dialogue with the Investor and a chapter in Public Relations Best Practices 2008-2009 titled Cross-Border Companies: A Fast-Increasing Trend in Investor Relations.
Description: Professional Blogger.
Interests: Developed International Markets, Energy stocks, Stocks - long, Tech stocks

Allen & Caron Inc
Allen & Caron has, for more than 30 years, provided investor relations, media relations and corporate communications services to micro-, small- and mid-cap companies. With offices in New York City and Irvine, CA, and affiliations in London and Milan/Rome, Allen & Caron is one of very few independently owned
...
More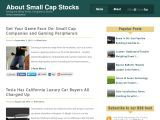 AboutSmallCap
We look for neglected companies for the most part -- companies with light trading, companies that appear to have value opportunities, oprhans, companies with few obvious peers, companies with little or no analytical following. We believe we can bring value to readers in unearthing new ideas -- but we're a
...
More
Currently, you have no book details. Click edit to add book details.
Latest comments on Joseph Allen's Articles