Joseph L. Shaefer is the CEO and Chief Investment Officer of Stanford Wealth Management, LLC, a Registered Investment Advisor.
Retired senior executive of Charles Schwab and Co.
Retired (36 years) active and reserve military service -- six in special operations, the next 30 in the intelligence community. Global geopolitical analyst, human intelligence officer, attache, etc.
Author -- investment book Bringing Home the Gold
Editor -- The Investor's Edge®. In the 15 years from inception through year-end 2014, the Investor's Edge® Growth & Value Portfolio increased in value from $250,000 to $1,060,647. That same $250,000 invested in the S&P 500 rose to just $417,992, including
...
More
dividends. (Past results are no guarantee of future performance.)

Featured in Forbes, Barrons, The Wall Street Journal, Financial World, Wall Street Transcript, Global Investing, Welling on Wall Street, etc.
Description: Registered Investment Advisor (RIA). Trading frequency: Monthly
Interests: Closed End Funds, Developed International Markets, Dividend stock ideas & income, ETFs, Energy stocks, Mutual funds, REITs, Stocks - long, Stocks - short, Tech stocks

Ph. Number:

775 832-5440
Location:

Nevada; USA
Stanford Wealth Management LLC
DO YOU MANAGE YOUR $500,000 PORTFOLIO ON YOUR OWN? Would you like a complimentary risk assessment of your current holdings? We are pleased to publish Investor's Edge for *all* investors. But we know that once a portfolio grows to our $500,000 individually managed minimums, it can become time-consuming
...
More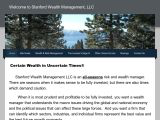 The Investor's Edge
Our website features a recent copy of Investor's Edge, complete with our 16-year track record (of model portfolios -- we've been in the financial business since 1972.) FYI, here's a resource where investors can research financial letters: www.stockgumshoe.com publishes subscriber reviews of investment
...
More

Bringing Home the Gold
(c) 1989, Bringing Home the Gold was Dow Jones' "Big Book" of 1989 in both the US and Japan. You might consider a 25-year-old book outdated -- but you might want to read this straightforward, common-sense primer before you decide! This is a book about *investing* the old-fashioned way -- doing your
...
More
When did institutions & investors become such WIMPS?Fed gov talks,market drops 150+. OF COURSE they will raise rates. Old news. Get over it.
Nov 13, 2015
Latest comments on Joseph L. Shaefer's Articles