Joseph P. Porter
x
Author Following Options:
See their articles on your Seeking Alpha homepage and in your feed.
Real-time alerts on this author
Get their new articles emailed to you as they are published.
Daily digest on all my authors
Get all your favorite authors' new articles emailed to you in one daily digest.
Send Message
I am a retired college faculty in Philosophy, with specializations in Ethics, Socio-political Theory and Rational Choice/Decision Theory. My teaching focus was on Business Ethics, Medical Ethics and Logic. After retirement I freelanced as a Grant Writer/Fund Raising Consultant. I have taught at Washington University in St. Louis, the University of Missouri - St. Louis, and St. Louis Community College.
I believe that potential investments ought to be evaluated through an examination of their fundamentals - i.e., fundamental analysis. Those investments can then be analyzed with respect to whatever criteria an investor may wish to bring to bear, but at least the investments they make will be more or less
...
More
fundamentally sound. For me, one of the more important features of an investment (after fundamentals are satisfied) is dividend yield. I expect my investment to earn money for me.

I also believe that the day of the "traditional" investment strategy based on one's age/proximity to retirement is over. To be sure, one wants to put one's money in places where it is more secure, but in the day and age of internet-based investment services, a variety of ETFs, and reasonably safe investment vehicles, there is no need for retired people to stick the bulk of their assets in relatively illiquid treasury notes and mutual funds.
Description: Occasional Investor. Trading frequency: Monthly
Interests: Dividend stock ideas & income, ETFs, Retirement savings, Stocks - long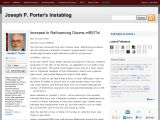 Joseph P. Porter's Instablog
In this blog I toss out ideas that perhaps are not really ready to be developed into full articles, or brief comments about events occurring in the market place. Most of it will be intended "tongue in cheek," although some people would claim that I am humor-disadvantaged.I refute that, and I do frequently
...
More
Currently, you have no book details. Click edit to add book details.
$
CUR
up $0.27 @1:20 - can't find any news for big jump (15%!) - anyone know what's going on?? Very smiley face about this.
Sep 24, 2015
Latest comments on Joseph P. Porter's Articles
Latest Articles on ETF Analysis