Lejun James Shao is the founder of www.myIRAs.net (http://www.myIRAs.net/), WhitePine Investment Inc of USA, and CEO of WhitePine Software Inc, Beijing, China. He was the top finisher in MSN's 1st US One Million Dollar Investment Contest, "Strategy Open Tournament," with a +45.88% return in 4 months from August 28 - December 2008.
An IT wizard turned professional investor, James Shao graduated from the University of Michigan with a PhD degree in Computer Engineering in 1990 and worked as an assistant professor in Singapore's Nanyang Technology University for 5 years after graduation. He worked as Chief Software Engineer in DSP Technology, Design Engineer in Ford Motor Company, and several other high
...
More
tech companies after his return. James Shao started his investment profession in 2001.
Description: PE Fund Manager. Trading frequency: Daily
Interests: Developed International Markets, Dividend stock ideas & income, Energy stocks, Gold, Options, REITs, Stocks - long, Tech stocks

Ph. Number:

626-203-7987
Email:
Location:

CA; USA
www.myIRAs.net
Our website is for self-directing IRA investors. We provide a set of timely designed Portfolios, which consist of carefully selected stocks, to our subscribers. We believe that those stocks will outperform the market by a big margin in the long run. We never short stocks and will never buy stocks in margin.
...
More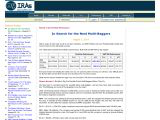 jsTRA's Blog
My view on market direction; gold and metal prices; Portfolio performance, trading strategies, section rotation, hot stocks to watch, etc.
Currently, you have no book details. Click edit to add book details.
long on SCO and RUSS and will put stop-loss on SCO at 60.00. RUSS at 11.30. I am betting that oil price will drop Tuesday or Wednesday.
Feb 16, 2015
Latest comments on jsIRA's Articles