Keith Springer is the author of "Facing Goliath: How to Triumph in the Dangerous Market Ahead," radio host of "Smart Money with Keith Springer" on 1530 KFBK, editor of the Smart Money Newsletter, a market technician, a financial writer, multinational philanthropist, and President and founder of Springer Financial Advisors in Sacramento CA, an SEC Registered Investment Advisory Firm. He has developed a US Trademarked proprietary process known as Top-Down Tactical™ for building tax-efficient and retirement portfolios for high net worth individuals. Keith has been providing professional financial advice for more than 28 years, specializing in wealth management solutions for the most complex individual
...
More
and institutional portfolios worldwide.
Description: Insurance Broker. Trading frequency: Weekly
Interests: Bonds, Dividend stock ideas & income, ETFs, Forex, REITs, Stocks - long, Stocks - short, Tech stocks

Ph. Number:

(916) 925-8900
Email:
Location:

CA; United States
Springer Financial Advisors
Keith Springer's holistic personal approach is distinctive in the industry. We identify not just your financial goals but your life's goals. How will you pay for your children's college or assist your aging parents? What kind of legacy do you wish to leave? How much money do you need to live comfortably for
...
More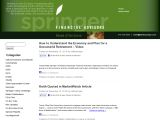 Keith Springer's Financial Blog
Keith Springer provides in-depth critical economic and market commentary: including weekly newsletter publications, media quotes and special interviews, as well as seminar invitations for those interested in gaining further financial knowledge from Keith in person.

Facing Goliath: How to Triumph in the Dangerous Market Ahead
Few will see it coming. Those who are prepared will prosper, while the rest will likely endure serious financial and personal hardship. Facing Goliath sums up complex economic concepts and often-overlooked historical perspective in an engaging style and a sensible approach to impending investment challenges.
...
More
Latest comments on Keith Springer's Articles