M. Kevin Flynn has held the Chartered Financial Analyst designation since 1992. He is the President of Avalon Asset Management Company, a Registered Investment Adviser, and has worked in the investment industry since 1983.
Avalon's MarketWeek, a weekly newsletter written by Mr. Flynn and covering the stock market, economy and individual stocks has been published continuously since April 2007. For subscription information please send an email to info@avalonassetmgmt.com
Description: Registered Investment Advisor (RIA). Trading frequency: Daily
Interests: Bonds, Dividend stock ideas & income, ETFs, Options, Retirement savings, Stocks - long, Stocks - short, Tech stocks

Ph. Number:

617-892-4192
Email:
Location:

MA; US
Avalon Asset Mgmt Co
Avalon Asset Management Company is a Massachusetts-based Registered Investment Adviser specializing in managing investment portfolios for individuals in Separately Managed Accounts. M. Kevin Flynn is a CFA (Chartered Financial Analyst) and has held the designation since 1992. Mr. Flynn began his investment
...
More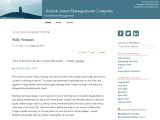 Avalon's MarketWeek
An in-depth review of developments in the US security markets and global economy, with an emphasis on the US.
Currently, you have no book details. Click edit to add book details.
Latest comments on Kevin Flynn, CFA's Articles