Skeptical investor with particular interest in the media sector. Focus on illiquid and under-followed securities. Deep value and strategic thinking. Willing to hold cash and wait for the right pitch. Interested in the philosophy of value investing as well.
Description: Occasional Investor. Trading frequency: Infrequent
Interests: Stocks - long
Currently, you have no company profile. Click edit to add a company profile.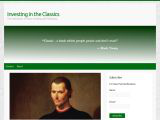 Investing in the Classics
The intersection of Value Investing and Philosophy. Analysis of classical texts and authors in terms of what investors today can still learn from them. Tracing the principles of value investing to its roots in the philosophical intellectual tradition.
Currently, you have no book details. Click edit to add book details.
Latest comments on Klarmanite's Articles
LATEST ARTICLES & INSTAPOSTS
more »