Kurt Brouwer is the chairman and co-founder of Brouwer & Janachowski, LLC, a Tiburon, California fee only financial advisory firm that manages over $700 million for corporations, charitable groups and private investors. In this position, he has become a recognized expert in the field of investing and, more specifically, investing in mutual funds. USA Today called him, "…one of the most-respected mutual fund authorities in the nation." Brouwer is the author or co-author of three investment books, including Kurt Brouwer's Guide to Mutual Funds and Mutual Fund Mastery, written with Steve Janachowski. He has written articles for Forbes, Barron's, The San Francisco Chronicle, Pension World and other publications. He is
...
More
also the editor of Fundmasteryblog (http://blogs.marketwatch.com/fundmastery). Brouwer & Janachowski's web site is: www.fundmastery.com. Brouwer holds a degree in applied economics from The University of San Francisco.
Description: Financial advisor. Trading frequency: Infrequent
Interests: ETFs, Mutual funds

Ph. Number:

4154358330
Location:

California; USA
Brouwer & Janachowski, LLC
Getting Started As a first step in working with you, we will spend time with you in a fact-finding interview to provide us with sufficient information to conduct an accurate analysis. Financial Analysis After we fully understand your situation and unique requirements we develop financial projections which
...
More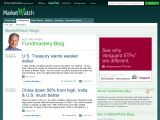 Fundmastery Blog
Our writing here is based on the knowledge and experience we have gained in our work as financial advisers at a Tiburon, California-based firm called Brouwer & Janachowski, LLC. Our firm is now in its 24th year of serving clients as a fee-only financial advisory firm. We provide ongoing investment
...
More
Currently, you have no book details. Click edit to add book details.
Latest comments on Kurt Brouwer's Articles