Larry Kramer is an adjunct professor of Media Management at the Newhouse School of Communications at Syracuse University. He is also a media consultant and author of the best selling book: "C-Scape: Conquer The Forces Changing Business Today", a book on the changing landscape for media and related industries for Harper Collins.
He sits on the board of directors of Discovery Communications (NASDAQ: DISCA), American Media Inc., Freedom Communications, Inc., BlackArrow, Inc. (Chairman) and Harvard Business School Publishing, and serves on the Advisory Boards to the Newhouse School (chairman), Minyanville.com, Crossboarders.tv and Jib Jab Media Inc. He was a founding board member and former Chairman of The
...
More
Online Publishers Association.

From March 2005 until November 2006, he served as the first President of CBS Digital Media, reporting directly to Leslie Moonves. In this role, Kramer created a new division that put together all new media operations for the network, including online, interactive and wireless initiatives. He had oversight over and launched or relaunched several websites including CBS.com, CBSNews.com, CBS SportsLine.com and StarTrek.com. While there, he created March Madness on Demand (the web broadcast of the NCAA Basketball Tournament), put CBS TV shows on the web, and created distribution partnerships with Google, Amazon, Apple I-tunes, Yahoo and Verizon for CBS content. He continued to serve as an Adviser to CBS until April 2008.

From January 2008 until January 2010 he was Senior Advisor to Polaris Venture Partners, a Venture Capital firm based in Boston.

Prior to joining CBS, Kramer was Chairman, CEO and Founder of MarketWatch, Inc. (NASDAQ: MKTW), also known as CBS MarketWatch, until its sale to Dow Jones for $528 million in January 2005. He created the company as an LLC with Data Broadcasting Corp. and CBS, launching in October 1997, taking it public in January 1999, and making three acquisitions to build the business along the way.

He had joined Data Broadcasting Corp. as Vice President in 1994, following its acquisition of his first startup, DataSport. As founder, president and executive editor of DataSport Inc. from 1991 to 1994, he created SporTrax, a hand-held sports information monitor, which was a subscription product launched under a marketing agreement with The Sporting News.

Prior to founding DataSport, Kramer spent more than 20 years in journalism as a reporter and editor. He started his career in 1974 as a reporter for the San Francisco Examiner. In 1977, he became a financial reporter for the Washington Post. In 1980, the Post promoted him to executive editor of the Trenton (N.J.) Times. In 1982, he returned to the Post to serve first as assistant to Executive Editor Benjamin C. Bradlee and later as assistant managing editor and metro editor. In 1986, he returned to the San Francisco Examiner as its editor. In 1991, he left the Examiner to become an entrepreneur and launched DataSport and then Marketwatch.com.

While a journalist, he won several awards for reporting, including the National Press Club Award, The Associated Press Award for news writing and The Gerald Loeb award for business reporting. His staffs won two Pulitzer Prizes.

He is a graduate of Harvard University (masters of business administration) and Syracuse University (bachelors of science in journalism and political science). Kramer has been a lecturer at several universities, including the Harvard Business School, Syracuse University, University of Pennsylvania, UC Berkeley, NYU, Columbia University, Stanford University, Washington University and Emory University.

He served a two-year term as a Pulitzer Prize juror.
Description: Journalist.
Interests: Stocks - long
Currently, you have no company profile. Click edit to add a company profile.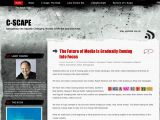 C-Scape
This is a blog about the changing landscape of media and business. C-Scape stands for the fact that the four themes driving change all begin with the letter "C": 1) Consumer. The power of the consumer has grown and continues to grow. New technology has enabled the consumer to have much more choice in how and
...
More

C-Scape: Conquer the Forces Changing Business Today
A bold, pioneering best seller from Harper Collins that shows how business can survive and thrive in the digital media revolution. "C-Scape: Conquer the Factors Changing Business Today" gives the reader a roadmap to how to succeed in the new digital media-dominated world. Not so long ago, the business
...
More
Latest comments on Larry Kramer's Articles