Lawrence Weinman has worked over 20 years in the financial markets advising both institutional and individual investors. His services now include both ongoing fee only asset management and per hour or per project portfolio analysis and allocation reommendations by email/phone or in personal meetings. He is available for personal consulations Calfiornia, New York metropolitan area, South Florida and for US citizens in Israel.
He has worked in the capital markets groups of Citicorp, Morgan Stanley and Societe Generale where he headed the foreign currency options marketing group for North America. Working with individuals he has designed and implemented asset allocation and investment strategies and assisted his
...
More
clients in retirement and tax planning. Mr. Weinman has presented seminars on financial issues to both lay and professional audiences in the US and abroad and has been quoted in the Wall Street Journal, Business Week, CNN and the Reuters and Bloomberg news services as well as local Southern California media. Mr. Weinman holds a BA from Columbia University and an MBA from the Stern School of Business of New York University. He currently teaches a class on investment management for MBA students.
Description: Registered Investment Advisor (RIA). Trading frequency: Infrequent
Interests: Bonds, Commodities, Developed International Markets, ETFs, Mutual funds, Retirement savings
Ph. Number:

310.276.4034
Location:

CA; USA
Lawrence Weinman Financial Advisory and Investment Mangement
How We Implement Our Investment Strategies:
· Asset Class Investing: Index Investing Is the best strategy. By creating a portfolio of index instruments (funds and exchange traded funds) across a range of asset classes one can create a low cost, low tax, diversified portfolio.
...
More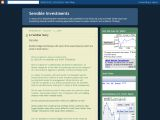 sensible investments
A resource for debunking the investments myths peddled by the financial press and Wall Street hype and presenting rational,sensible investing approaches based on sound research and academic findings.
Currently, you have no book details. Click edit to add book details.
Latest comments on Lawrence Weinman's Articles