Dr. Linus Wilson is an associate professor of finance at the University of Louisiana at Lafayette. He received his doctor of philosophy in financial economics from the University of Oxford in England in 2007. He has conducted extensive research into the Troubled Asset Relief Program (TARP). He has written or coauthored over a twenty academic papers on the various aspects of the TARP bailouts. These papers discuss the bank capital injection programs, which banks repay their bailout monies, which banks are deadbeats on their TARP loans, government plans to buy toxic assets, and the valuations of stock warrants issued to taxpayers as part of the TARP program. Professor Wilson has been a source for hundreds of news stories
...
More
in outlets such as the BBC, Business Week, The Financial Times, The New York Times, NPR, The Washington Post, and The Wall Street Journal. His research on bank bailouts can be found at http://papers.ssrn.com/sol3/cf_dev/AbsByAuth.cfm?per_id=686305

He founded the Louisiana registered invesent advisory firm Vermilion Advisory Services. Vermilion Advisory Services launched the hedge fund Oxriver Capital which began trading in 2013. More information about Oxriver Capital can be found at http://oxrivercapital.com.
Description: Registered Investment Advisor (RIA). Trading frequency: Infrequent
Interests: Bonds, Dividend stock ideas & income, ETFs, Forex, Mutual funds, Options, REITs, Retirement savings, Stocks - long, Stocks - short, Tech stocks

Ph. Number:

(312) 513-8250
Email:
Location:

Louisiana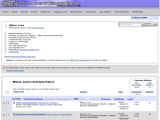 Academic Research
My academic papers on bank bailouts can be found here. I do not have a blog.
Currently, you have no book details. Click edit to add book details.
Latest comments on Linus Wilson's Articles