Margin of Safety Equity Research is a value-investing focused company providing equity research services, the Securities Analysis System investment software, stock valuation models, and other financial resources for value investors. Members of our subscription services have access to the Margin of Safety value-oriented portfolio and discounted access to our software.
We apply Buffett's and Charlie Munger's four filters in selecting stocks as part of a concentrated portfolio (10-15 equities). Criteria for selecting companies are:
1.They are strong businesses; as defined by high long-term cash generation, above-average return on invested capital, possession of favorable underlying economics and a durable
...
More
competitive advantage, good financial health, and above-average profit margins

2. We understand the business

3. They are run by competent management

4. They are available at bargain prices.

We require a 25-50% margin of safety, depending on the stability and economic moat for the company.

In addition to equity research services, we are a member of the Gerson Lehman Group Expert Counsel of Advisors and provide research/consulting services to investment banks.
Description: Newsletter author. Trading frequency: Monthly
Interests: Stocks - long

Margin of Safety Equity Research, Inc
Margin of Safety Equity Research is an online community for value investors and, for premium members, a provider of independent equity research, Excel-based valuation models, and valuation software (Securities Analysis SystemTM Valuation Software). We strive to identify high-quality investment ideas by
...
More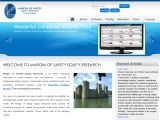 Margin of Safety Equity Research
Each week, we update our readers with key portfolio updates, earnings previews/updates, news/press releases related to stocks in our investment universe, and our favorite video reports.
Currently, you have no book details. Click edit to add book details.
Latest comments on Margin of Safety Equity Research's Articles