Disclaimer: This biography is required reading for anyone considering an investment in any of Mark Gomes' selections. It contains critical information about his research and trading methodologies.
Mr. Gomes is currently the CEO of Pipeline Data, LLC and a contributing analyst to PTT Research. Mr. Gomes' initiation video (http://tinyurl.com/nn29gb6) and Methodology (http://poisedtotriple.com/methodology/), along with his article on "Tripling Your Money" (http://tinyurl.com/nx336wn) are required reading to understand the nuances of Mr. Gomes' research and trading methodology.
With over 20 years of professional experience, Mark Gomes is among the world's most experienced technology stock
...
More
analysts. During his time as a contributor to Seeking Alpha, approximately 50% of his Official Poised To Triple picks have either doubled, tripled, or been acquired. Once his selections are released to the general public, they will appear (along with their official initiation price) in his Portfolio Tracker at http://poisedtotriple.com/portfolio-tracker/.

Since 2004, Pipeline Data has provided investment consulting to many of America's most well-respected mutual fund and hedge fund managers. His investment methodology revolves around identifying misconceptions in the marketplace, employing hundreds of recognized industry experts. By utilizing proprietary methods and an extensive network of IT industry contacts, Gomes has built an enviable reputation for discovering low risk / high reward situations.

In 2008, Mr. Gomes semi-retired and moved to Miami Beach shortly thereafter. In 2009, he began donating picks to Seeking Alpha and quickly built a reputation for picking doubles, triples, and M&A candidates. He was widely credited as the first analyst to publicly confirm Himax's role in Google Glass and correctly predict that Apple computer would engage with Pixelworks, Inc. The fruition of these events resulted in a 200% gains for each stock.

Some thereafter, Mr. Gomes co-founded PoisedToTriple.com and PTTResearch.com (PTT) in 2013. These ventures seek to even the odds for Main Street investors by providing his institutional-level research at retail prices. Similar to the Seeking Alpha PRO program, PTT stock selections are shared with paying members first and foremost. Thereafter, Mr. Gomes may choose to share his selections with non-paying members of PoisedToTriple.com and/or Seeking Alpha. To optimize entry points, investors should consult with Mr. Gomes' subscription service and/or Methodology at PoisedToTriple.com.

Gomes has previously held a number of key positions within leading IT research and consulting organizations. He began his career at International Data Corporation where he led its buy-side investment research practice. From 1998-2004, he served as the Director of Investment Research at AMR Research, a globally-recognized IT advisory firm which was later acquired Gartner Group. There, he drove the business unit's expansion into a multi-million dollar operation, guiding clients through the Internet bubble and subsequent bust. Gomes has serviced hundreds of Wall Street analysts and portfolio managers during his tenure.

Gomes is also a U.S. Masters Track & Field national champion and world record holder.

He also represented Team USA at the 2011 Masters World Championships, placing 4th. "Faster Than Forty" details the diet, lifestyle, and training techniques that enabled Gomes to shed 50 pounds and return to Track & Field prominence after a 13-year hiatus. Further information can be found at www.fasterthanforty.com and www.facebook.com/fasterthanforty.

He currently donates time to coach children and the Miami Beach community.

_______________________________________________________________

Mr. Gomes' real-time investment postings can be found on Twitter (@PoisedToTriple). Investors are also encouraged to read Mr. Gomes' investment Methodology (http://poisedtotriple.com/methodology) to learn how the lessons of Warren Buffett, Benjamin Graham (Mr. Buffett's mentor), and Peter Lynch can help you hone your investment skills.

_______________________________________________________________

Mr. Gomes' selections are prepared and/or reviewed by Mr. Gomes. All documents produced by Mr. Gomes, along with Pipeline Data, LLC and PTT Research, LLC (His Companies) are for information and illustrative purposes only and should not be regarded as investment advice or as a recommendation regarding any particular security or course of action. Opinions expressed in Mr. Gomes' content are his opinions and are subject to change without notice. Reasonable people may disagree about Mr. Gomes' opinions. In the event any of the assumptions used prove to not be true, results are likely to vary substantially. Mr. Gomes will make best-efforts to provide a public reconciliation of any statements that are proven to not be true, but is not obligated to do so. Equity positions held by Mr. Gomes' are subject to change without notice. All investments entail risks. There is no guarantee that investment strategies will achieve the desired results under all market conditions and each investor should evaluate its ability to invest for a long term especially during periods of a market downturn. No representation is being made that any account, product, or strategy will or is likely to achieve profits, losses, or results similar to those discussed, if any. No part of Mr. Gomes' documents may be reproduced in any manner, in whole or in part, without the prior written permission of Mr. Gomes and/or His Companies. This information is provided with the understanding that with respect to the material provided herein, that you will make your own independent decision with respect to any course of action in connection herewith and as to whether such course of action is appropriate or proper based on your own judgment, and that you are capable of understanding and assessing the merits of a course of action. Mr. Gomes and His Companies do not purport to and does not, in any fashion, provide broker/dealer, consulting or any related services. You may not rely on the statements contained herein. Mr. Gomes and His Companies shall not have any liability for any damages of any kind whatsoever relating to any of his published materials. You should consult your advisors with respect to these areas. By accepting the materials of Mr. Gomes and His Companies, you acknowledge, understand and accept the foregoing.
Description: Investment Consultant.
Interests: Stocks - long, Stocks - short, Tech stocks
PTT Research & Pipeline Data, LLC
PTT Research provides exclusive access to Mark Gomes' latest picks to triple. Mr. Gomes built an enviable track record, leading to a massive following on Seeking Alpha, Facebook, PoisedToTriple.com, and PTTResearch.com. In 2013, he was credited as being the first analyst to provide proof that Himax (HIMX)
...
More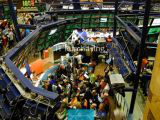 Poised To Triple
Since 2009, Mark Gomes has been a valued contributor to Seeking Alpha. He has amassed an enviable track record and a massive following for identifying buyout candidates and stocks that are "Poised To Triple".In 2013, he was credited with being the first analyst to assemble undeniable proprietary evidence that
...
More

Faster Than Forty
In addition to overseeing Pipeline Data, Gomes is a world-ranked Masters Track & Field athlete. He has held #1 U.S. rankings at 800 meters and finished 4th at the 2011 Master World Championships. Gomes is also the author of Faster Than Forty, which details the diet, lifestyle, and training techniques
...
More
Latest comments on Mark Gomes's Articles