Mark Henwood is the director of New Energy View (www.newenergyview.com) and CEO of Henwood Associates, Inc. an owner, operator, engineer, and constructor of hydroelectric and other power facilities.
Previously Mark built Henwood Energy into a market leader serving the global power industry before its sale in 2002 to form Global Energy Decisions (now part of ABB Ventyx). The company provided enterprise software for risk management, market data, web based analytics and mapping, and management consulting services. The company maintained offices in North America, Europe and Asia-Pacific After leaving Global, Mark formed Plexos Solutions LLC and served as its Chaiman until its sale to Enengy Exemplar in August 2011.
...
More
Mark also served as board member and advisor to PowerLytix, LLC until April 2008 when it sold to Barclays Capital. He was also a director of the Independent Energy Producers Association (Calif) for seven years during the critical QF development period .

In addition to his activities at Henwood Associates, Mark manages a diversified portfolio of equities and fixed income and develops New Energy View (www.newenergyview.com) because of his long term interest in sustainable energy and investing. He is also active in promoting sustainable energy businesses in the Sacramento region through his involvement with CleanStart (www.cleanstart.org) where he is co-founder and Vice Chairman and with start-ups (both directly and formerly as a venture partner in a Sacramento based venture capital firm).

He has a Bachelor's degree in Electric Engineering and Master's degree in Mechanical Engineering from the University of California at Davis where he was a member of of Tau Beta Pi, the Engineering Honor Society. Mark is a California General Engineering Contractor and a resident of Sacramento, California.
Description: Occasional Investor. Trading frequency: Weekly
Interests: Bonds, Commodities, ETFs, Energy stocks
Henwood Associates, Inc.
We are extremely experienced in hydroelectric power engineering and power contracting for renewable energy resources. Our experience as operators of resources selling to three different California utilities and the associated regulatory complications associated with Carbon regulation give us a unique
...
More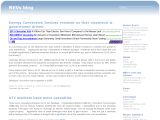 New Energy View
Occasional postings about specific companies, sectors, and technologies in the sustainable energy field.
Currently, you have no book details. Click edit to add book details.
TIPS real yields are negative out to about 7 years. This has only happened on 10 days since 1/1/2003, 9 of which are the last nine days.
Oct 8, 2010
Latest comments on Mark Henwood's Articles