Matthew Tucker, CFA, Managing Director, is a member of the Product Strategy Team within BlackRock's Fixed Income Portfolio Management Team. He leads the product strategy effort for exchange - traded funds, and leads the platform's efforts in North and Latin America iShares. His team focuses on developing new fixed income iShares strategies, partnering with the iShares team on product delivery, and supporting iShares client sales. Matt is an associate of BlackRock Investments, LLC. BlackRock, Inc. and its affiliates are not affiliated with Seeking Alpha.
Matt's service with the firm dates back to 1996, including his years with Barclays Global Investors (BGI), which merged with BlackRock in 2009. At BGI, he led
...
More
the US Fixed Income Investment Solutions team, where he was responsible for overseeing product strategy for active, index, enhanced index, iShares (ETF) and long/short products. Previously, he was a portfolio manager and trader in fixed income focused on US government securities. Matt was part of the team that developed and launched the first fixed income ETF in 2002, and worked as the lead portfolio manager for fixed income iShares. He began his career at Barra, where he supported clients in the use of Barra's fixed-income analytics. Matt earned a BS degree in business administration from the University of California at Berkeley in 1994 and is a CFA Charter Holder. He is a frequent contributor to a number of financial publications and has written extensively on fixed income ETF markets and dynamics.
Description: Company executive.
Interests: Bonds, Commodities, Dividend stock ideas & income, ETFs, Energy stocks, Gold, Retirement savings

iShares
iShares® is BlackRock's branded Exchange Traded Funds business with over 460 funds globally across equities, fixed income and commodities, and which trade on 19 exchanges worldwide. BlackRock, the parent company of iShares, is a leader in investment management, risk management and advisory services for
...
More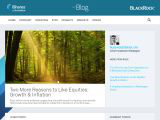 The Blog
Blackrock believes in openness, transparency, and honesty. It's how we fulfill our mission: empowering investors and investment professionals to achieve their goals. The Blog furthers that commitment, by providing visitors to the Blog with market insights and analysis from some of the preeminent thought
...
More
Currently, you have no book details. Click edit to add book details.
Latest comments on Matt Tucker, CFA's Articles