Matthew R. Blake is a Principal of My Portfolio Guide, LLC and leads the Rocky Mountain Division. He is based in the Denver office and serves clients across Colorado, Wyoming, Montana, Idaho, Utah, New Mexico and both North and South Dakota.
Matt grew up in the investment business and has seen it change drastically over the years. His father has worked in the financial industry his entire career and it was with his influence that Matt has spent the last 18 years of his life gaining experience and expanding his career.
Matt grew up in Evergreen, CO and has ties to Southern California where he met business partner Matt Pixa in the 1990's. Both partners competed athletically in college and understand the
...
More
balances between academics and the demands of being a disciplined athlete. Matt Blake competed as a varsity water polo player and swimmer in Southern California and then completed his studies at Colorado State University. After earning his Bachelor of Science degree, Matt worked in the private sector and then decided to enter the financial industry by learning from some of the most eminent names on Wall Street. He was trained and licensed at Prudential Securities where he worked primarily with affluent individuals and business owners managing diverse portfolios. From there Matt excelled on the management side of the financial services industry, he assisted with opening and managing a retail branch with Charles Schwab & Company in the Denver Tech Center area where he was a member of the Circle of Excellence. He then assisted with creating and managing a national sales team at Jackson National Life in the Denver area. After gaining valuable experience in the insurance side of the business Matt went back to his core strength of working with individuals and personally guiding them through their complex financial lives. He joined a Denver based RIA firm in 2005 and was a member of the team that drove the firm to national recognition for growth and client retention through some very challenging economic environments. The last several years he has been recognized as a "Five Star Advisor" in the financial industry, placing him in the top 7% of advisors in the entire industry.

Combining the experiences of retail and institutional financial services, insurance planning and portfolio management, led Matt to the position of Principal with My Portfolio Guide, LLC where he can provide all of this at the most ethical and highest service levels possible.

Matt Blake lives in Littleton, CO with his two active children, Jackson and Campbell. Along with several outdoor interests (fly fishing, camping, skiing, etc.) Matt and his family are actively involved in their local church, the Denver community, youth sports, The PheoParaTroopers organization.
Description: Registered Investment Advisor (RIA). Trading frequency: Monthly
Interests: Alternative Investments, Bonds, Dividend stock ideas & income, ETFs, Stocks - long

Ph. Number:

888-47-GUIDE
Location:

CO; USA
My Portfolio Guide
Every company offering a service or product should differentiate itself from the competition…but how many truly do? As mentioned on our Welcome page, My Portfolio Guide promises to improve your current portfolio and how it's being managed. Any prudent consumer should shop around and we actually encourage you
...
More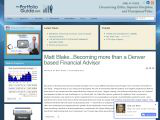 My Portfolio Guide's Blog
My Portfolio Guide's Blog aims to inform, update, educate, and humor clients as well as those wanting to get to know more about me and how I approach investment management.
Currently, you have no book details. Click edit to add book details.
Latest comments on Matthew Blake's Articles