Matthew Bradbard is a principal owner of Focus Alternative Funds Management, LLC, and also serves as a Director at RCM Alternatives & AP at Attain Portfolio Advisors.
Matthew began his career in the commodities business as an advisor to clients on asset allocation and buy/sell decisions. Matthew has devised, implemented and executed trading strategies for several firms since entering the commodity business in 2001. Matthew has also managed his own global macro CTA that traded numerous futures and options strategies and operated his own Introducing Broker for 5 years. A prolific commentator, Matthew has published subject-specific articles, market commentaries, and Managed Futures educational pieces for the
...
More
last decade. Matthew is frequently interviewed for his opinion on commodities and current events as they relate to commodities and their role in an investor's portfolios. Matthew holds a Bachelor's Degree in Finance from Northeastern University, and also studied at the University of Sydney.
Description: Hedge Fund Manager. Trading frequency: Weekly
Interests: Alternative Investments, Bonds, Commodities, Futures, Gold, Options

RCM Alternatives
RCM Alternatives pairs high net worth individuals, financial advisors, and institutional investors with commodities based alternatives investments through managed accounts and private funds. And this isn't our first rodeo, with much of RCM's senior team having helped investors identify and access top tier
...
More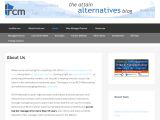 RCM Alts Blog
When we're not having fun compiling a list of the best investing movies of all time, taking down an ignorant reporter, shining a light on some terrible ETFs, or analyzing commodity markets; our 'day job' is helping investors access top talent in the alternative investment space. RCM Alternatives pairs high
...
More
Currently, you have no book details. Click edit to add book details.
Latest comments on Matthew Bradbard's Articles