Matthew V. Pixa is the President and founder of My Portfolio Guide, LLC. My Portfolio Guide is an independent, fee-only (non-commission) Registered Investment Advisory firm based in the state of California. My Portfolio Guide offers customized investment guidance focused on the needs of individuals from all stages and walks of life.
Matt's curiosity and passion for investing began during the stock market crash of 1987. Being a new investor without any guidance and coupled with the dramatic events of that period, an interest and passion for becoming a student of the markets was born.
Matt later studied Economics and earned a Bachelor's degree while also competing as a student-athlete for California State
...
More
University Long Beach. After advancing his career for 12 years he decided to return to business school and further his education by earning an MBA from the W.P. Carey School of Business at Arizona State University.

Matt was trained and worked as an investment advisor for several of the largest and most widely respected brokerages on Wall Street as well as one of the most eminent private wealth management firms in the nation. Early on in his financial career, he learned that most "advisors" are actually not trained to give unbiased investment advice. Many simply get licensed and then are employed as salespeople to pitch products or build a book of business that is only scalable by outsourcing the relationship to others. It becomes a numbers game and what typically gets left behind is the best interest of the client.

Matt lives in Seal Beach, CA with his wife Cecilia, daughter Isabel, and son Lance. He enjoys coaching youth sports for his children's teams and also competes in Ironman triathlons as a way to stay fit, disciplined, and blow off any left over energy…
Description: Registered Investment Advisor (RIA).
Interests: Bonds, Dividend stock ideas & income, ETFs, Mutual funds, Retirement savings, Stocks - long, Stocks - short

My Portfolio Guide, LLC
Every company offering a service or product should differentiate itself from the competition…but how many truly do? As mentioned on our Welcome page, My Portfolio Guide promises to improve your current portfolio and how it's being managed. Any prudent consumer should shop around and we actually encourage you
...
More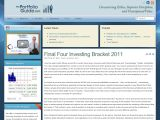 My Portfolio Guide's Blog
My Portfolio Guide's Blog aims to inform, update, educate, and humor clients as well as those wanting to get to know more about me and how I approach investment management.
Currently, you have no book details. Click edit to add book details.
Latest comments on Matthew Pixa's Articles