MarketDNA is a product of SJL Capital LLC. SJL Capital LLC is a Registered Investment Advisory firm that was formed in March, 2005.
MarketDNA is a proprietary quantitative analysis program which was created in 1996 and then tested and fine-tuned over the last 14 years. The unique methodology of the proprietary system is so special that nothing else rivals what it can do from an accuracy rate.
MarketDNA.com
SJL Capital is on the buy & sell side as an Independent Research Provider with the product MarketDNA that is sold to several hedge funds as well as proprietary trading desk of one of the largest investment banks on Wall St and available to the individual investor. ...More SJL has also
...
More
partnered with the Bank of New York in the past as well as several Broker Dealers to provide MarketDNA to their clients. SJL Capital LLC also manages a hedge fund subscribing to and applying the MarketDNA alerts to its methodology.

Matthew Rossi:

Matthew Rossi is a former Private Investment Fund Manager from 2002 to 2004 with a group of limited partners from Greenwich CT. He is currently the General Partner of a Hedge Fund run by SJL Capital LLC. Mr. Rossi holds a BA in Economics as well as an MBA in Finance, both from the University of Connecticut as well as a Series 65 Licenses. He is the sole creator/inventor of the proprietary quantitative analysis program called MarketDNA which was created back in 1996 and then tested and fine-tuned over the last 14 years. Mr. Rossi has over 18 years in fundamental financial analysis with emphasis on mergers & acquisitions, due diligence, financial spreadsheet analysis & modeling.

Our main goal in providing MarketDNA to you is to bring the information that is being traded on by the select few to the public so we can make the flow of information efficient and equal to everyone.

We welcome you to our product as well as any feedback you may have at admin@marketdna.com

Thank You

Matthew Rossi

SJL Capital LLC

Contact Us:

admin@marketdna.com

mrossi@sjlcapital.com
Description: Accountant. Trading frequency: Weekly
Interests: ETFs, Options, Stocks - long, Stocks - short

MarketDNA
Variances in option volume can be a predictor of Smart Money trading but alone will not give you enough accuracy to make money. MarketDNA takes the unusual option volume further through our proprietary system of filters refined over 14 years, proven to bring you substantially higher returns. Trades previously
...
More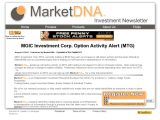 MarketDNA
RSS Feeds on variances in option volume alerts from multiple equities across all sectors and market sizes
Latest comments on Matthew Rossi's Articles