Matthew Buckley is the founder and CEO of Top Gun Options LLC and a Managing Partner at Wealth Creation Investing LLC. Matt was formerly the Managing Director of Strategy for PEAK6 Investments, L.P., one of the largest volatility arbitrage options trading firms in the country. He was the founder and CEO of PEAK6 Media LLC, the parent company of ONN.TV (The Options News Network) and is also a nationally recognized speaker on business leadership, execution, and risk management.
Matthew Buckley is a veteran C level executive with extensive leadership experience from the front lines to the front office. A former decorated Navy fighter pilot, he graduated from the Navy Fighter Weapons School (TOP GUN) and flew 44
...
More
combat missions over Iraq. While on active duty he taught himself how to trade options and has been successfully trading for over 15 years.

Matthew's unique background makes him a highly successful options trader. He applies many fighter pilot methodologies and techniques to his trading such as developing a well defined strategy, supported by specific tactics and predetermined exit points. He always has a contingency plan and debriefs each trade to get lessons learned that he can apply to improve portfolio performance. He teaches traders of all experience levels how to sort through information overload (trading task saturation) to ensure that they have the highest probability of success before squeezing the trigger.

Follow Whiz on Twitter: @WhizCheck6
Description: Newsletter author. Trading frequency: Daily
Interests: Commodities, Dividend stock ideas & income, ETFs, Gold, Options

Ph. Number:

9546165362
Location:

FL; USA
Top Gun Options
At Top Gun Options we know combat and we know options trading. Trading is conducted in a hostile environment on a dynamic battlefield populated with various players of assorted skill. The winners have superior training and cutting edge technology, coupled with discipline and risk management methodologies. At
...
More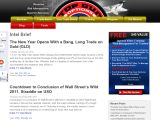 Top Gun Options Intel Brief
Discipline. Risk Management. Superior Execution. These are the critical characteristics an investor needs to succeed in this volatile market and are the cornerstones of the Top Gun Options training system. Founded on combat tested Naval Aviation training methodologies, and proven on the front lines of Wall
...
More
Currently, you have no book details. Click edit to add book details.
Latest comments on Matthew Whiz Buckley's Articles