Michael D. Bodman, MBA
I manage finance operations at a marketing and public relations agency. The views expressed here are my own. I do independent economic research and digital publishing through my company: Portfolio Economics. I believe in portfolio theory, behavioral economics, and value investing.
I have a long-term strategy based on the same approach to the financial markets used by university endowments, sovereign wealth funds, and foundations. My goal is higher returns with less risk, since alpha evaluates both risk and reward -- that is, how efficiently risk is converted into return.
Before founding Portfolio Economics, I was as a research analyst with an accounting and finance
...
More
consultancy in Denver, Colorado. I produced research concerning Citigroup, Union Bank of Switzerland, and Merrill Lynch. I covered billion-dollar structured finance deals, real estate, banking, and derivatives.

Earlier, I was a U.S. Peace Corps Volunteer in Asia, after which I became an international policy analyst with a Cabinet-level agency of the U.S. Government in Washington, D.C. I traveled overseas on official U.S. business during which I was posted to U.S. Embassies in Africa and the Americas.

I hold an M.B.A. from the University of Colorado Denver Business School. While in graduate school, I was a marketing consultant at the business school's center for entrepreneurship in Denver. I also hold a Master of International Affairs in Development Economics from Columbia University and a B.A. in Political Science with a concentration in Political Economy from Stanford University. I am a member of the National Association for Business Economics and the American Marketing Association.
Description: Small business owner. Trading frequency: Infrequent
Interests: Bonds, Closed End Funds, Commodities, Developed International Markets, Dividend stock ideas & income, ETFs, Emerging Markets, Energy stocks, Forex, Gold, Mutual funds, REITs, Retirement savings, Stocks - long, Tech stocks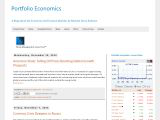 Currently, you have no book details. Click edit to add book details.
Latest comments on Michael Bodman's Articles