Michael Sankowski lives in Oak Park, IL. Michael has been a professional trader for 20 years and traded billions of dollars on four continents. He's traded Futures, Currencies, Stocks and written for Agora Publishing, Absolute Wealth, and SFO Magazine. He's a CFA Charterholder and CAIA charterholder, and has created patented products used in Futures Exchanges.
He writes www.generatefx.com and www.trendfollowing101.com. He is also the author of http://www.traderscrucible.com
FINANCIAL ADVISORS & STOCK TRADERS: Check out our revolutionary new Momentum Trading Site, http://www.etfmomentumtrader.com
Description: Newsletter author. Trading frequency: Weekly
Interests: Bonds, Commodities, Dividend stock ideas & income, ETFs, Energy stocks, Forex, Retirement savings

Generate FX
We provide premium training and trading services for investors and traders interesting in mastering the Forex and Currency markets.
Financial Advisors: check our our revolutionary new product, http://www.etfmomentumtrader.com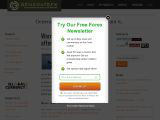 Trend Following 101
Forex Trading Services, Mentoring, and detailed Market Analysis set GenerateFX apart from other FX service providers. Our products are made by winning professionals for winning professionals. We offer highly successful signals combined with unique weekly market video analysis that take forex trading to the
...
More

The Trader's Toolbox for Trend Following Millions
Trend following has made professional traders billions of dollars that have been documented for decades. This book gives you an easy-to-follow, systematic approach to entering this highly profitably investing strategy, broken down into four basic steps: What is Trend Trading?, Who are you as a Trader?, Why
...
More
Latest comments on Michael Sankowski's Articles