With a couple of decades of experience as an option market maker and institutional floor broker on the trading floor, I have some opinions (not always right). I do have a decent grasp of options and market mechanics. I have lectured and consulted for exchanges, the SEC, universities, and private investment funds as well as taught courses in the financial field.
Working for a financial software company takes a good part of my time (Silexx Financial Systems, a financial software company that designed the trading/risk management platform, Obsidian, is a vendor-neutral stock, equity and option trading platform.)
The bulk of my time is managing partner of Kinetic Investment Group - a private investment firm.
...
More
We have a great team of guys/gals and the products we are working on are exciting. www.kineticgrp.com

Of course there is a DAILY news letter I type up every morning before the sun comes up and email out.

Being neither a Democrat or Republican – I fall somewhere in the Austrian / Chicago School of Thought, some would even say more laissez faire. One of my favorite American historical figures is Thomas Paine. I like to believe that I try to measure up to Paine's quote: "The most formidable weapon against errors of every kind is Reason. I have never used any other, and I trust I never shall."
Description: Hedge Fund Manager. Trading frequency: Daily
Interests: Dividend stock ideas & income, ETFs, Gold, Options, Stocks - long, Stocks - short

Ph. Number:

941-953-6800
Location:

FL; US
Silexx Financial Systems, LLC
Silexx designs and develops next-generation trading systems, complete front- to back-office solutions or innovates lines of business through consistent and careful evaluation of the financial markets. Our goal is to leverage our decades of professional financial experience with knowledge of complex
...
More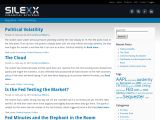 Market Preview
Check out the FREE daily Market Preview.The Market Preview is a brief review of news that may impact the financial markets. The Market Preview includes a recap of yesterday's action, market impacting news, economic data, politics, economics, and support & resistance levels.Of course I inject some sarcasm,
...
More
Currently, you have no book details. Click edit to add book details.
Latest comments on Michael Williams's Articles