Mike Nadel
x
Author Following Options:
See their articles on your Seeking Alpha homepage and in your feed.
Real-time alerts on this author
Get their new articles emailed to you as they are published.
Daily digest on all my authors
Get all your favorite authors' new articles emailed to you in one daily digest.
Send Message
First, the good stuff. Here's my portfolio ...
Consumer Discretionary: MCD, TGT
Consumer Staples: COST, GIS, KHC, KO, MO, PEP, PG, PM, WBA
Energy: CVX, COP, KMI, XOM
Financial: MAIN.
Health: ABBV, AMGN, GILD, JNJ
Industrial: DE, EMR, GE, LMT, MMM
Materials: BBL
REITs: HCN, NNN, O, OHI
Technology: AAPL, MSFT, QCOM
Telecom: BCE, T, TU, VZ
Utilities: AVA, SCG, SO, WEC
ALSO: small stakes in 21 additional companies held in the Dividend Growth 50 portfolio (http://seekingalpha.com/article/2764265-its-new-its-nifty-its-the-dividend-growth-50): ADP, AFL, BAX, BDX, CAT, CL, CLX, D, GPC, HCP, HSY, IBM, KMB, MKC, NEE, SBUX,
...
More
SJM, UTX, V, WFC, WMT.

Now, a little about me:

I am a 50-something former sportswriter who was sent on a permanent vacation during the Great Recession. That sucked, but my story is not a sad one. Unlike many folks who lost their jobs, I am not in financial distress, I am not depressed and I am not bored.

My wife is a pediatric nurse with a bullet-proof job and decent benefits. So after supporting her and our two kids (now grown) for most of three decades, the least she can do is support my semi-retired keister!

Because of Roberta's job situation, because we have zero debt (not even mortgage debt), because we no longer have any dependents and because we have been pretty diligent savers over the years, we are comfortable (though nowhere near rich).

Although we hold some funds, bonds and cash, my investing philosophy leans heavily toward Dividend Growth Investing. By 2023, we want to live entirely off of our income stream, Social Security and pension payments - and therefore will not have to spend down the principal one iota. To accomplish this, we invest mostly in blue-chip companies with long track records of growing dividends. As of the spring of 2015, we are well ahead of pace to reach our goal.

When not researching investments and writing for Seeking Alpha and other Web sites, I coach middle-school girls basketball at Metrolina Regional Scholars Academy, the top charter school in the Charlotte metro area. I also umpire youth baseball and referee youth basketball.

My wife and I dote on our 4-year-old pup, Simmie, and keep up on the doings of our now-grown kids, Katie and Ben. And we love to cheer on the basketball team of our alma mater, Marquette University, where we both majored in Journalism. Go Warriors!

I still occasionally post to the blog I initiated in 2007 -- lots of sports stuff, some politics, some personal junk -- at www.TheBaldestTruth.com.
Description: Occasional Investor. Trading frequency: Monthly
Interests: Dividend stock ideas & income, Retirement savings, Stocks - long
Currently, you have no company profile. Click edit to add a company profile.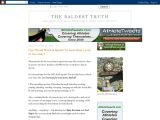 The Baldest Truth
For nearly three decades, I was a newspaper sports columnist and wire-service sportswriter. In January 2007, I became the first Chicago sports columnist to start a blog, and I've been hacking away at it ever since. I don't post as regularly as I used to, and I'm much more likely to write about politics,
...
More
Currently, you have no book details. Click edit to add book details.
Latest comments on Mike Nadel's Articles
Latest Articles on Dividend Investing Strategy