MIKE PHILLIPS
Mike Phillips is a seven-year employee of Power Financial Group, Inc. He is involved in the support and development of PowerOptions, an award winning Internet site for searching for stock option strategies and PowerOptionsApplied, an Internet site providing an option-trading newsletter.
Mike has been trading stocks and options for ten years and has an MBA degree in Finance from Santa Clara University and Bachelors and Masters of Science Degrees in Electrical Engineering from Texas A&M University and the University of Texas at Arlington, respectively.
He was involved in the development of software and semiconductors for electronic equipment for many years and has been
...
More
involved as a key contributor in the development of several start-up companies. Mike leverages his Engineering expertise and experience gained from the electronics industry and applies it to the analysis and investment in stocks, options and futures.
Description: Independent / boutique research firm analyst. Trading frequency: Weekly
Interests: ETFs, Options

Ph. Number:

302-992-7971
Email:
Location:

DE; USA
PowerOptions
Providing tools and education for stock option investors. Free webinars, expert coaching sessions and much more. Search the entire market for stock option investments. Support 23 popular option strategies. Search by fundamental, technical and option related criteria. Test your strategy with historical
...
More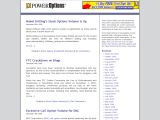 PowerOptions WeBlog
PowerOptions offers you the convenience and control required to automatically sort, filter, and analyze all 3,300+ optionable stocks and 340,000+ options online to find investments to meet your profit goals. Only PowerOptions brings together timely essential data, extensive analysis, and comprehensive option
...
More

Iron Condor: Neutral Strategy for Uncommon Profit
Co-authored with Ernie Zerenner, President and founder of PowerOptions, this text introduces the Iron Condor stock options investment strategy. Although the material is presented with the beginning options investor in mind, the content is also valuable for immediate or advanced options investors. Here is the
...
More
Latest comments on Mike Phillips's Articles