I am an investor, entrepreneur, and forecaster of economic trends. I graduated in 2008 with a degree in History from Columbia University right around the time of the housing crisis. Instead of doing my schoolwork, I would carry around and study 10 books at a time about investing. Then I would warn anyone within earshot of the impending crisis.
I created Expected Returns in 2009 to offer a fresh perspective on economics and investing that isn't clouded by the flawed theory so often taught in school. I believe we are at a critical turning point in history that is under-appreciated. As of this writing in late 2014, a major sovereign debt crisis has yet to sweep the globe. I think that's about to change.
...
More

http://expectedreturnsblog.com

http://twitter.com/ExpectedReturns

http://www.facebook.com/ExpectedReturns
Description: Full-time Investor. Trading frequency: Infrequent
Interests: Bonds, ETFs, Gold, Stocks - long, Stocks - short
Expected Returns
Newsletter with weekly commentary on the state of affairs in the economy and investment advice.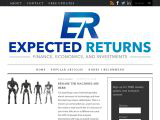 Expected Returns
The global economy is in the middle of a fundamental shift that will create serious dislocations. Government debt in the U.S., Europ, and Japan have reached the point of no return. It's not a matter of if, but when these problems come to the surface in the form of a sovereign debt crisis.Expected Returns
...
More
Currently, you have no book details. Click edit to add book details.
Latest comments on Moses Kim's Articles