MyPlanIQ.com is the only web application that offers advanced asset allocation strategies customized to a wide range of retirement and taxable investment plans such as 401(k), IRA and brokerage accounts. The unique key advantages of MyPlanIQ.com are
1. Superior investment strategies with high return and low risk
* Asset allocation based on a wide diversified array of assets
* Strategic and Tactical asset allocation that have been well researched, proven and utilized by hedge funds and wealth management
* Superior fund selection.
2. Customization down to specific retirement, variable annuity (VA), variable life insurance (VUL), college savings and brokerage taxable investment
...
More
plans

* Supporting thousands of 401k, 403b, brokerage ETF/Mutual Fund, IRA, VA, VUL and 529 plans

* Taking redemption, fees and other factors into account for the available investment choices in a plan

* Customized portfolios tailored to available funds in a plan and personal risk profile.

3. An easy to use yet powerful platform

* Online portfolios monitored daily and regular rebalance email notification

* Easy yet powerful tools to allow portfolio construction and study

* A vibrant community to share and discuss investment issues

4. Low cost and flat fee

MyPlanIQ.com enables private investors to achieve institutional investment results and experience with a fraction of cost and efforts.
Description: Company executive. Trading frequency: Monthly
Interests: Bonds, Dividend stock ideas & income, ETFs, Forex, Mutual funds, REITs, Retirement savings, Stocks - long, Stocks - short

Ph. Number:

510-279-3131
Email:
Location:

California; USA
LTI Systems, Inc.
LTI Systems, Inc. is the operator of MyPlanIQ.com and ValidFi.com. The founders of LTI Systems have extensive technology and business background in computer and semiconductor industries. They have been using the strategies provided by MyPlanIQ for their own personal retirement and taxable investments. The
...
More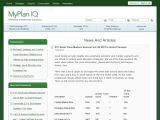 MyPlanIQ News and Articles
MyPlanIQ's blog provides periodical articles to discuss issues related to retirement plans (401(k), 403(b) and IRAs), deferred compensation plans (457), college savings plans (529), taxable brokerage investment accounts, variable annuities and universal life insurance plans. It also covers investment
...
More
Currently, you have no book details. Click edit to add book details.
Latest comments on MyPlanIQ's Articles