I'm an aviation mechanic with an interest in investing and trading as a hobby.
Description: Full-time Investor. Trading frequency: Weekly
Interests: Commodities, Dividend stock ideas & income, Energy stocks, Forex, Gold, Options, REITs, Stocks - long, Tech stocks
Currently, you have no company profile. Click edit to add a company profile.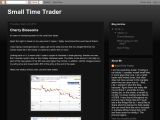 Small Time Trader
Often due to work and life, I don't have the luxury of time or funds to make blockbuster trades to get super rich. I don't know many that do.I started the Small Time Trader blog for myself and people like me who trade as a hobby, with the idea that it could turn into something more if the right mix of
...
More
Currently, you have no book details. Click edit to add book details.
$
GLD
Looks like a little bit of a pickup in gold lately. I am lloking for GVIX above 20 for Reverse Iron Condors.
Apr 6, 2013
Latest comments on Nathan Browning's Articles
LATEST ARTICLES & INSTAPOSTS
more »