Netwall Investments, LLC (www.netwall.com) is a Chicago based money management firm. Our philosophy is derived from that of many legendary investors such as Warren Buffett, Peter Lynch & Martin Whitman; i.e. Invest in great businesses that you understand, that have an "economic moat" and which are run by great management teams; have some margin of safety and superior returns are guaranteed in the long run. These are the Ten rules that we religiously follow to manage other people's money:
Ten Commandments:
1. I shall not lose money
2. I shall never forget rule #1
3. I shall only invest in businesses whose people I respect and admire
4. I shall only invest in
...
More
businesses with some definite form of competitive advantage

5. I shall only invest when odds of making money are in my favor

6. I shall only commit funds when an investment is available at a discount to its true intrinsic value

7. I shall always run a portfolio with an in-depth understanding of each investment, thus avoiding mindless diversification

8. I shall always make rational decisions and never be influenced by the behavior of markets. I shall adhere to mantra, "Ignore the Crowd"

9. I shall tend to be fearful when others are greedy and be greedy when others are fearful (backed by meticulous research and fact finding)

10. I shall never forget that I am a custodian of other people's hard earned money and I promise to manage it with the same zeal as if it were my own
Description: Hedge Fund Manager. Trading frequency: Infrequent
Interests: Bonds, Developed International Markets, Dividend stock ideas & income, Energy stocks, Gold, Options, REITs, Stocks - long

Netwall Investments LLC
Ten Commandments of Investing that we follow religiously:
1. I shall not lose money
2. I shall never forget rule #1
...
More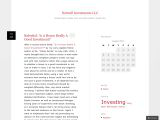 Netwall Investments LLC
After reading almost all the books written about/by greatest investors of the world such as Warren Buffett, George Soros, Peter Lynch etc. I thought that I share some pearls of wisdom that I have learned from them. I am so influenced by their investment style, that I promised to myself never to deviate from
...
More
Currently, you have no book details. Click edit to add book details.
Latest comments on Netwall's Articles