Nicholas Marshi is the Chief Investment Officer of Southland Capital Management (SCM). The Company is a Registered Investment Adviser in Santa Monica, California. SCM's principal expertise is in the area of publicly traded leveraged finance to U.S. private companies, including the Business Development Company industry ("BDC"), high yield bonds and floating rate loans.
SCM manages two "hedge funds" devoted to equity investments in BDCs and other specialty finance lenders. The Company's first fund-BDC II-was launched in October 2009, and a second fund-BDC III- in January 2011.
Mr Marshi also edits the leading website devoted to regular updates on the BDC industry entitled the BDC
...
More
Reporter, with regular analysis on over 36 companies and on trends in this under-known sector. Check out www.bdcreporter.com.

Prior to forming Southland Capital Management with Mr Hansen, Mr. Marshi managed two private equity firms: Kensington Capital Corporation ("KCC") and Southland Capital Partners "SCP"). Starting in 1990 and 1995 respectively , both firms were active in acquiring lower middle market private companies, principally in Southern California, in leveraged buy-out transactions.

Before founding KCC, Mr Marshi was the head of the Los Angeles office of Kleinwort Benson Limited, a British merchant bank, from 1987-1990. Mr Marshi was involved in leading investment banking, lending and principal investing activities (both directly in middle market companies and in funds managed by Kleinwort Benson and other institutions). Prior to joining Kleinwort Benson, Mr Marshi held various positions with Citibank at locations worldwide including Athens, Dubai, Puerto Rico and London.

Mr Marshi is a graduate of Tufts University (B.A.) and Harvard University (M.A.).
Description: Hedge Fund Manager. Trading frequency: Daily
Interests: Dividend stock ideas & income, Stocks - long

Ph. Number:

1-800-579-1651
Location:

CA; USA
Southland Capital Management, LLC
BRIEF SUMMARY OF WHO WE ARE AND WHAT WE DO Southland Capital Management ("SCM") is a Registered Investment Adviser based in Santa Monica, California. Founded in 2008, SCM manages the first private-investment funds for high net worth investors devoted to publicly-traded equity and debt investments in Business
...
More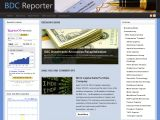 BDC Reporter
The Congress created Business Development Companies (BDCs) in 1980 to increase the flow of public equity capital to private businesses in the United States. However, the sector is not well known even though there are at least 36 listed companies, with a market capitalization in excess of $30 billion. BDCs
...
More
Currently, you have no book details. Click edit to add book details.
Latest comments on Nicholas Marshi's Articles
LATEST ARTICLES & INSTAPOSTS
more »