Nicholas Pardini is the managing partner of the equity long/short hedge fund Nomadic Capital Partners. The fund specializes in commodities, emerging market consumer equities, and equities in the the global technology sector. His research and live trade updates are also found on his investment newsletter The Pardini Report (http://pardinireports.com) .
He graduated from UC Santa Barbara with an economics degree in three years. Before launching Nomadic Capital Partners in January of 2011, he worked as a proprietary trader at Wedbush Securities and attended a Masters in Finance program at Villanova. His investment specialty is in top down macro based fundamental analysis of equities and the global economy.
...
More

Nicholas has also published portions of Nomadic's research on leading investment commentary website Seeking Alpha. His analysis has been mentioned on prominent media outlets such as USA Today, NHK, CBS News, CNBC.com, and ZeroHedge.

Follow Me On Twitter:

https://twitter.com/NicholasPardini
Description: Hedge Fund Manager. Trading frequency: Weekly
Interests: Commodities, Developed International Markets, ETFs, Energy stocks, Forex, Gold, Stocks - long, Stocks - short

Nomadic Capital Partners
Nomadic Capital Partners is a global macro hedge fund that aims to capture investment opportunities through emerging market equities and the technology sector. Nomadic Capital's investment process incorporates rigorous fundamental research of various macroeconomic trends, geopolitical risks, and economic
...
More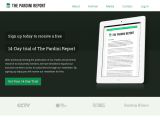 The Pardini Report
After previously limiting the publication of our trades and premium research to exclusively investors, we have decided to expand our exclusive content's access to subscribers through our newsletter. Traditional buy and hold investing or erratic day trading no longer work in these markets and our research
...
More

The Definitive Guide to Emerging Market Currencies
With central banks around the world devaluing major currencies such as the US dollar, Japanese Yen, and the euro, opportunities for higher returns are available through investing in emerging market currencies. Investing in exotic currencies such as the Chinese renminbi or Brazilian real may seem complicated,
...
More
Latest comments on Nicholas Pardini's Articles