Nick Gogerty he has worked at a value based hedge fund, a quant forex desk and debt prop desks, various technology and marketing firms and a deep future science research lab as well as one of the world's largest hedge funds. He is to be a guest lecturer at Columbia's Value Investing program fall 2014 and wrote, The Nature of Value published by Columbia University Press.
His experience and passion runs deeply across multiple market sectors, audiences and geographies.
Mr Gogerty has lived in 6 countries across 3 global regions, solving complex business problems.
Previously, Mr. Gogerty developed commodity hedge fund portfolios and indexes, working as a quantitative developer and trader on a
...
More
proprietary foreign exchange desk in London. In addition, Mr. Gogerty has been a serial entrepreneur in convergence spaces between technology and media. He has also testified before the U.S. Senate on technology and counter-party financial risk with regard to the year 2000 transition.

Mr. Gogerty holds a Bachelor of Arts in cultural anthropology from the University of Iowa, an M.B.A. from the Ecole de Ponts et Chaussees in Paris. He holds or has held Series 3, 7, 63 and FSA licenses. Nick holds the Chartered Alternative Investment Analyst (CAIA) (http://www.caia.org/) designation. Mr. Gogerty lives in New York City with his wife Mercedes, where he enjoys reading about finance, technology, design, applied science and sustainable development in emerging economies. visit www.thenatureofvalue.com
Description: Investment Consultant. Trading frequency: Infrequent
Interests: Bonds, Commodities, Developed International Markets, Dividend stock ideas & income, ETFs, Energy stocks, Forex, Gold, Options, Stocks - long, Stocks - short, Tech stocks
Thoughtful Capital Group
Global L/S portfolio manager (capital allocator). Behaviour and systems interaction is economics. Allocation to business with sustainable value creation and internal capital allocation processes. This involves understanding ROIC drivers namely, competitive market clusters dynamics, and margin extraction
...
More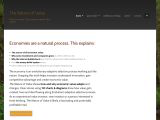 The Nature of Value
most of the sustained important things can be considered systems. Allocation to a value creation system means understanding it pricing power via a moat. The language of systems helps understand this.

The Nature of Value: How to invest in the adaptive economy.
The economy is an adaptive selective process that works just like nature. Understanding how this process works can help one understand the innovation process and the keys to sustainable competitive advantage. Investing or allocating capital is all about understanding how excess economic value is created
...
More
Latest comments on Nick Gogerty's Articles