Donald Kay Riker, Ph.D. is President & Founder, On Point Advisors, LLC [www.onpointadvisors.com], a consumer healthcare consultancy he founded in 2007 and Editor-in-Chief, OTC Product News [www.otcproductnews.com]. Dr. Riker was a fellow at New York's prestigious Rockefeller University, earned his Ph.D. in Neurobiology at Cornell University and won a three-year NIH Research Fellowship in neuropharmacology and neurochemistry in the laboratory of Nobel Prize winner in medicine Paul Greengard and Robert Roth at Yale University School of Medicine. During this tenure he worked on neurotransmitter systems in neurological disease. After one year at the West Haven VA Hospital he joined the clinical development group at
...
More
Richardson-Vicks, an over-the-counter healthcare company later acquired by Procter & Gamble, while remaining a Research Affiliate in Medicine & Psychiatry at Yale. During this time he helped design and implement the first prescription drug monitoring program for the National Football League.

At P&G Dr. Riker worked to support over-the-counter analgesic and respiratory products rising to the rank of Associate Director & Research Fellow while managing the conduct of over 125 clinical trials of OTC products & conditions, Rx actives, and clinical model development. For a decade (1982-1992) he was a key player in the academic/industry consortium investigating the understanding of the common cold. In 1994 he co-authored a landmark study in the New England Journal of Medicine on sinus involvement in common colds since quoted in over 350 investigations. Dr. Riker drafted the first proactive technical recommendations that resulted in the acquisition/OTC switch of both Rx naproxen [1985, Aleve] and omeprazole [1996, Prilosec] making similar evaluations of non-sedating antihistamines as potential OTC's [1990's]. During his tenure at the world's most disciplined consumer products company Don worked closely with business development, marketing, finance, regulatory affairs, and consumer insight. He supported brands such as Nyquil, Dayquil, Vicks 44, Sinex, Aleve, Chloroseptic, PeptoBismol, and Prilosec.

In 2001 Dr. Riker was recruited by Chattem, Inc, a leading acquirer of health and beauty care products, to rebuild and lead R&D as its first Vice President of R&D & CSO. Over his five years at Chattem Don installed a first-rate product development and regulatory group launching 6-8 products per year across diverse trade categories, including topical analgesic patches and crèmes [Icy Hot, Capsaizin, Aspercreme], skin care [Gold Bond], lip care [Herpecin], dandruff shampoo [Selsun], sunscreens [Bullfrog], supplements [Dexatrim, Garlique, CardioAssist, New Phase], and menstrual products [Pamprin]. While keeping R&D spending at 1% of sales Chattem's stock price rose 6-fold during his tenure, a period accounting for 78% of the stock's appreciation from the company's inception to the present [2009]. Dr. Riker managed product development, QA/QC, analytical services, global regulatory/safety, and consumer affairs.

Few people in consumer healthcare share his experience as both a clinical scientist and a business leader. Dr. Riker is a member of the Society of Neuroscience, Regulatory Affairs Professionals Society, Licensing Executives Society, American Academy of Allergy, Asthma & Clinical Immunology, American Society of Pharmacology and Experimental Therapeutics, American Society of Clinical Pharmacology & Therapeutics, Infectious Disease Society of America, Drug Information Association, and Sigma Xi. Dr. Riker served for five years on the Scientific Affairs Committee of the Consumer Healthcare Product Association the scientific advisory arm of the trade association.
Description: Analyst. Trading frequency: Infrequent
Interests: Options, Stocks - long, Stocks - short
Ph. Number:

423-902-7312
Email:
Location:

TN; USA
OTC Product News
OTC Product News [www.otcproductnews.com]: In depth insight into current issues affecting the consumer healthcare industry. No other source offers hard hitting editorial opinion and analysis of the OTC industry. We specialize in predicting and interpreting change that may dislocate company forecasts and
...
More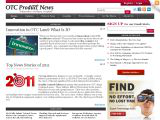 OTC Product News
OTC Product News provides independent commentary on how current events impact consumer healthcare companies and their products.
Currently, you have no book details. Click edit to add book details.
Latest comments on On Point Advisor's Articles