Started investing in the 90's, became a trader in the 2000's.
Wrote the Options Weekly Newsletter focusing on finding stock trades that can be paired with options. The newsletter also focused on trading and option education.
Read articles on: http://www.optionsweekly.com
Description: Retiree. Trading frequency: Infrequent
Interests: Forex, Options, Stocks - long, Stocks - short, Tech stocks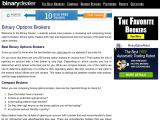 Binary Options Broker Reviews
Welcome to the Binary Dealer, a website whose sole purpose is reviewing and comparing binary options brokers. Binary option traders both new and experienced will find reviews of the best binary option brokers.Interesting Fact: There are over 200 binary option brokers.This makes the risk of opening an account
...
More

Guide to Binary Options Trading
Do not be alarmed.
On the first impression the name binary options may sound a bit intimidating to every newbie, but the truth is that it's not.
Binary options are actually a simpler way of trading than Forex is. Besides being similar in all sorts of ways, binary options are
Basically this stock is smack in middle of the 52 week range. So you have no opinion, because it stuck! $
TSLA
Nov 6, 2015
Latest comments on Options Weekly's Articles