Patrick Chovanec is an associate professor at Tsinghua University's School of Economics and Management in Beijing, China, where he teaches in the school's International MBA Program.His insights into Chinese business, economics, politics, and culture have been featured on CNN, BBC, NPR, and Bloomberg, as well as in Time, Wall Street Journal, Financial Times, New York Times, The Atlantic, Foreign Policy, and numerous other publications. He is a regular expert commentator on Chinese TV and radio.
Professor Chovanec has worked for several private equity funds focused on China, and serves as an advisor to numerous hedge funds, PE funds, corporations, and governments on China. Previously, he served as director of
...
More
Institutional Investor's Asia Pacific Institute, based in Hong Kong, and its Global Fixed Income Institute, based in London. Before coming to Asia, Chovanec worked as an aide to political strategist William Kristol and to U.S. House Minority Leader John Boehner.

Professor Chovanec first visited China in 1986, and has traveled to every one of its 31 provinces, as well as Taiwan. His travels have taken him to over 45 countries, including Pakistan, Cuba, Vietnam, and Cambodia. He is one of only a handful of U.S. citizens to have visited North Korea.

He holds an BA in Economics from Princeton University and an MBA in Finance and Accounting from the University of Pennsylvania's Wharton School, where he graduated as a Palmer Scholar. He is a U.S. Certified Public Accountant (CPA).

You can follow his updates on Twitter @prchovanec

He can be contacted at prchovanec@gmail.com
Description: Professor.
Interests: Bonds, Commodities, ETFs, Forex, Gold, Mutual funds, Stocks - long
Currently, you have no company profile. Click edit to add a company profile.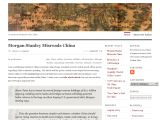 Patrick Chovanec
The author is an American business professor at Tsinghua University, one of the top universities in Beijing, China, and a former political aide in Washington DC. Posts focus mainly on the Chinese economy, business, and geopolitics, with additional commentary on the U.S. political scene.
Currently, you have no book details. Click edit to add book details.
Latest comments on Patrick Chovanec's Articles